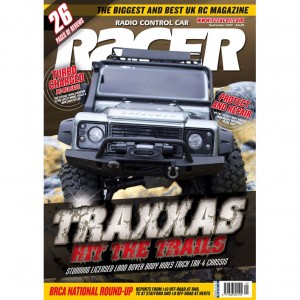 FEATURES
YOUR INSIGHT INTO THE BEST OF RC CARS,
PEOPLE AND TECHNIQUES.
24 TALKING RC WITH ROB
John Weston catches up with Revival organiser Rob
Jacques for this month's Iconic Column. Not only do we find
out about Rob's racing days, but also the challenges since
his Parkinson's disease diagnosis.
38 ICONIC CUP R2
Round two of the popular Tamiya-only on-road series took
place at Cotswold Model Car Club that once again saw Andy
Travis continue to dominated the 4WD Stock TC class.
52 X RATED
Jurgen Lautenbach announces the new entry-level Pulsar
Sport charger, as well as talking through the specification
of the three Flow X speed control models.
54 THE BATTLE RAGES
RHR would be the latest venue for Neil Cragg and Lee
Martin to do battle in their chase for the 2WD and 4WD 1:10
off-road titles, but it would see honours shared as they took
a win apiece.
60 BOLT-ON BED
The popular RC4WD TrailFinder 2 can be fitted with many
options to personalise it and one of the latest is the rear
tube bed developed in conjunction with CChand.
64 THREE OUT OF THREE
A third win in a row secured Olly Jefferies the 2017
modified TC title as the Xray factory pilot walked away with
the biggest domestic prize at Stafford.
68 WINNING IN THE WET
Tyres maybe one of the most obvious differences on a
touring car running in the wet but keeping it going is just as
important so who better to guide you on how to do this and
some top tips too than new national champ Olly Jefferies.
74 KING OF HERTS
Elliott Boots may have dominated qualifying, but when the
dust settled it was Team Associated racer Neil Cragg who
took the win and his second in row after the pole sitter's
Kyosho endured some mechanical misery.
80 APPLY AND PROTECT
Deluxe Materials new Body Armour does exactly what
it says on the tin. We tested it out on a couple of
polycarbonate shells with great results, and you can read
all about it on page 80.
84 BIRKIN AND TRAVIS SEAL ICONIC
CHAMPS
The Iconic Cup 2017 has seen some great competition
amongst the racers competing in the five classes. As the
series headed to Broxtowe Model Car Club for the third
round, two drivers wrapped up the overall wins with one
event still to go.
REVIEWS
THE LATEST
THRASH TESTS.
30 KYOSHO TURBO SCORPION
The latest kit from Kyosho is the fifth in their re-release
line-up. The updated Turbo Scorpion remains true to original
essence of the Scorpion design but with some revisions
for 2017. Along with new larger 2.2-inch wheels, it also
includes 12mm oil shocks, 20mm wider front track and
10mm longer wheelbase for improved control and handling
performance.
40 TRAXXAS TRX-4
We first glimpsed the Traxxas TRX-4 at Nuremberg back in
January, but the wait is finally over and the model is now
available to buy. Logic RC kindly supplied us with one of
the first models coming into the UK that is packed with
innovation that has made the Traxxas brand so successful.
88 TAMIYA GRASSHOPPER II 2017
The Grasshopper II 2017 is the second re-release of the
original model that first debuted in the 1980s. The first
re-release was an enhanced follow up to the original
Grasshopper kit, whereas the 2017 kit features a number of
updates while keeping largely faithful to the original model.
The streamlined construction process makes this kit perfect
for less experienced users whilst the famous name and
history also appeals to established RC fans.
REGULARS
NEWS, LETTERS, DATES, NEW PRODUCTS
AND OUR VIEWS.
8 NEWS
Ronald Völker wins the 2017 EFRA TC European Champs
in Spain, Micha Widmaier takes victory at the 1:8 off-road
Euro Bs, Stu Wood signs for Schumacher whilst Neil Cragg
does the double at Boughton.
18 INSIDE LINES
All the latest stuff including kits, accessories, option parts
and much more.
20 EDITORIAL
Keeping it under control.
20 WHO, WHAT, WHEN AND WHERE?
Three pictures from the past but who are they?
21 TIME WARP
What was happening one, five and ten years ago.
73 COMING UP
What you can expect to see in the next month's issue of
Racer.
79 DATES
Plan your schedule for the next few months with our racing
calendar.
96 BUYERS GUIDE
Where to shop in your area with Racer's comprehensive
store guide.
99 ALL OVER
The Old Time Racer felt like he had been cajoled into
another new class only to find out he liked it.