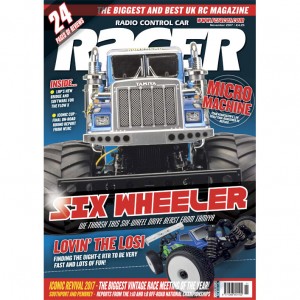 REVIEWS
30 TAMIYA G6-01 KONGHEAD
Tamiya's huge machine stands out from the crowd for all
the right reasons with its six-wheel drive chassis, huge
tyres and big truck body. Before we even got to drive the
Konghead we were excited and naturally that translates into
a great review.
44 TEAM ASSOCIATED SC28
The latest SC28 from Team Associated is this Lucas Oil
Edition that comes finished in Carl Renezeder's signature
colour scheme. As a Ready-To-Run model, this 2WD model
comes with everything included in the box so you just need
to charge and go! Shaun Taylor writes the words as his son
puts the 1:28-scale model through its paces!
58 LOSI 8IGHT-E RTR
Losi is Horizon Hobby's recreational line and so the models
are often based on sister brand TLR vehicles. Naturally the
8ight-E leans heavily on the competition-spec E-buggy but
this one comes as a Ready-To-Run with Dynamite system
and Spektrum radio to achieve speeds of over 50mph
straight out of the box!