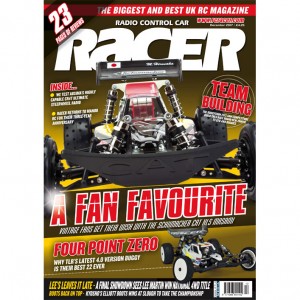 FEATURES
YOUR INSIGHT INTO THE BEST OF RC CARS,
16 ON-ROAD IN FOCUS
Following on from the success of off-road vintage racing,
24 MARTIN VERSUS CRAGG
Neil Cragg may have wrapped up the BRCA National
38 LRP COLUMN
Lots of news this month from LRP with a distribution update
40 RACE TO BUILD THEN RACE AGAIN
The Buggython is an unusual RC event in that it involves
52 T FOR TOUCH
Absima's CR4T Ultimate
56 THREE YEARS
John Weston returns to
66 BOOTS IS BACK ON TOP
As the traditional end of series venue, Slough would see
the top 1:8 off-road racers do battle once again, but with
the added interest of a national championship on the line.
70 MADDISON TAKES KING AT COTSWOLD
Zak Finlay and Olly Jefferies had already wrapped up the
REVIEWS
THE LATEST
30 SCHUMACHER CAT XLS MASAMI
The much-anticipated re-release from Schumacher has
finally arrived and in the first of a series of article, we look
at the history of the kit, the reason behind the re-release as
well as some detailed tips on the build.
44 TEAM ASSOCIATED RC12R6
It's been a while since Team Associated have made big
changes to their 1:12-scale on-road chassis so this is a
big thing for the class and fans around the world. The new
RC12R6 features an alloy chassis, carbon fibre lower front
wishbones, updated centre shock set-up and minimalist
rear pod design that will be raced by the likes of Mark
Stiles and James Stewart at the UK nationals.
58 TLR 22 4.0
Finally TLR have released the 22 2WD buggy we have
wanted for some with its three-gear stand-up and laydown
transmission options being included in the one box allied to
an updated aluminium plate rear hub design, new steering
geometry as well as the knowledge and details taken from
its predecessor, the 4.0 should be one very competitive
buggy.
REGULARS
NEWS, LETTERS, DATES, NEW PRODUCTS
AND OUR VIEWS.
8 NEWS
Dario Balestri wins the IFMAR 1:8 On-Road World
Championship for Infinity, Spektrum releases details of
their personal lap timing system, sad news about the
closure of the Crystal Palace RC track whilst we have an
overview of the new classes, tracks and race format
for VRC.
12 INSIDE LINES
All the latest stuff including kits, accessories, option parts
and much more.
20 EDITORIAL
One-tenth-scale electric racing has followed a proven
format for a long time, so how can we spice it up?
20 WHO, WHAT, WHEN AND WHERE?
Three pictures from the past but who are they?
21 TIME WARP
What was happening one, five and ten years ago.
73 COMING UP
What you can expect to see in the next month's issue of
Racer.
76 CLUB RACER
Reports from the XRS Race and Schumacher BTCC at
Cotswold, the HNMC GP as well as an overview from
X-Factory UK of the UK Short Course Nationals.
79 DATES
Plan your schedule for the next few months with our
racing calendar.
80 BUYERS GUIDE
Where to shop in your area with Racer's comprehensive
store guide.
82 ALL OVER
Tamiya's newest RC model design appears to be missing a
key element as they introduce the RC Dancing Rider Trike.
Going into the final round, Infinity's Lee Martin would lead
Kyosho's Elliott Boots by just a single point with the final
podium spot also hotly contested.
PEOPLE AND TECHNIQUES.
the on-road racers haven't been forgotten as the Iconic RC
team have been developing the Iconic Cup that has already
enjoyed its second season with big plans in place for 2018.
Championship in 2WD earlier I the season, but he was in the
hunt for the 4WD title too as the series headed to Stotfold
and round six. There was only one problem, Lee Martin was
be the only one who could stop him…
for the UK, new CPX V22 tyres for TC carpet racing as well
as their sponsorship of the ETS and EOS for 2017-18.
a three-man team first of all building their Tamiya TT-02B
4WD buggy before competing in a series of races all scoring
points to decide the winners. As per 2017 the event
took place at RHR and took advantage of the
venue's newest update.
steerwheel radio retails for £130
and so is an ideal upgrade for
a standard set. Not only is it
well priced, but with a touch
screen display and many
great functions, it's highly
capable too.
AT THE MANOR
Manor RC club located
in Mansfield Woodhouse
to see how things have
boosted and modified titles respectively before the TC
nationals visited Cotswold, bit in the blinky class the race
was on for 2017 BRCA honours between Jimmy Maddison
and Richard King.