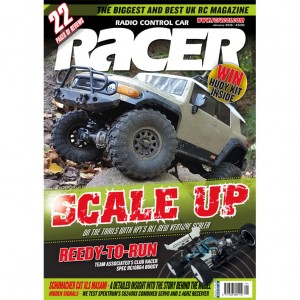 REVIEWS
30 HPI VENTURE
We have waited some time for HPI's Venture to be released
and it is here now so in the first of a series of articles, we
get to build up the Toyota FJ Cruiser-bodied scale chassis
and hit the trails. Like so many HPI products, the realism
and details are important and with the Venture they have a
very capable chassis underneath too as we found out when
the going got rough!
44 TEAM ASSOCIATED RC10B64
CLUB RACER
Take one B64 kit and throw in some proven Reedy electrics
and you have a cost-effective, race ready package that
Team Associated call Club Racer. Targeting the new racer
or someone moving over to 1:10 off-road, you cannot argue
with the spec that gets you a Reedy 13.5T motor, speed
controller and servo for just £100.
58 TAMIYA MERCEDES-BENZ AROCS 3363
6X4 CLASSICSPACE
The latest addition to Tamiya's 1:14-scale truck fleet is the
new Arocs slim line-bodied Mercedes-Benz Arocs 3363.
Using the proven layout as the previous Actros model with
the 6×4 drive system, we focused on the finish so we went
for a one-off paint scheme with some custom decals and
Tamiya Hop-Up parts for a cool and clean look.
REGULARS
NEWS, LETTERS, DATES, NEW PRODUCTS
AND OUR VIEWS.
8 NEWS
Ryan Maifield takes his first IFMAR World Championship
in China, Olly Jefferies and Zak Finlay clean up at the
latest EWS round, VRC announce the new GT3 class and
details of the EWS International are confirmed.
20 EDITORIAL
LiPos can be lethal so be safe people…
20 WHO, WHAT, WHEN AND WHERE?
Three pictures from the past but who are they?
21 TIME WARP
What was happening one, five and ten years ago.
12 INSIDE LINES
All the latest stuff including kits, accessories, option parts
and much more.
73 COMING UP
What you can expect to see in the next month's issue of
Racer.
76 CLUB RACER
This month brings reports from the EWS in Rayleigh, the
XRS UK Off-Road hosted by Midlands Raceway and the
Schumacher Indoor Off-Road Masters that was held at
Worksop.
79 DATES
Plan your schedule for the next few months with our
racing calendar.
80 BUYERS GUIDE
Where to shop in your area with Racer's comprehensive
store guide.
82 ALL OVER
RC racing "back in the day" was very challenging, but
that is not to say we didn't have fun by the bucket-load!