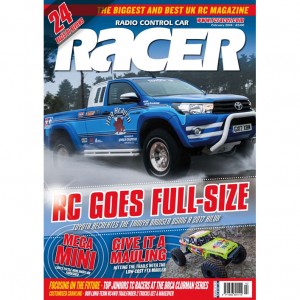 REVIEWS
THE LATEST
THRASH TESTS.
24 AXIAL SCX10 II 200 JEEP CHEROKEE
Despite the II in the name, the new Axial SCX10 II carries
over just 2% of the old model's parts and is topped off with
a turn of the century licensed Jeep Cherokee body.
44 LOSI MINI 8IGHT-DB
Just because the Mini 8ight-DB is small, doesn't mean
sacrifices. Based on the proven Losi platform the Desert
Buggy is plenty powerful, hugely capable and loads of fun!
56 FTX MAULER
Matt Ellis checks out FTX's new Mauler rock crawler to see
how the budget conscious, sub-£180 model fares out on
the trails.
Features
16 FULL-SIZE REP
Toyota recreates the iconic Tamiya Bruiser using one of
their latest 2017-spec Hilux Extra Cab with some trick
graphics and truly one-off custom parts.
32 PAYNE COMES OF AGE
Luke Burley reports from the second round of the BRCA 1:12
National Championships as the racers headed to Birtley
near Newcastle as young Ollie Payne gets one over his
mentor in modified.
38 ON-ROAD YOUNG GUNS
Martin Southall looks at some of the stars of the future who
raced the 2017 BRCA Clubmans series who are all aiming
to knock the likes of Olly Jefferies and Zak Finlay off their
perch in the coming years…
66 TF2S GET A MAKEOVER
Two of our long-term test RC4WD TrailFinder 2s were
treated to some accessories to not only strengthen and
add style, but to give some personalisation to each of the
trucks.
70 EUROPEAN GIANT IN FAR EASTERN
SUCCESS
Jurgen Lautenbach runs through the latest software
updates for the Flow X series of and the iX8 V2 as well
as highlighting LRP's success in Asia where their drivers
swept the AOC by taking five wins.