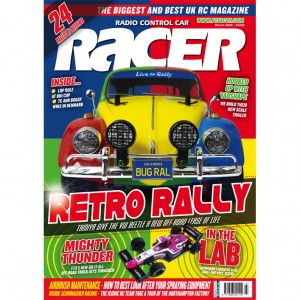 REVIEWS
THE LATEST
THRASH TESTS.
24 CAPRICORN LAB F1-01
With an optional chassis and a few new parts, it seems
the Lab F1-01 from Capricorn is one competitive Formula
1 racer. Ahead of the release of an updated kit, we find out
what the package has to offer.
44 FTX MIGHTY THUNDER
The Mighty Thunder is a bit of an all-rounder, with the
chassis of rock crawler and the looks of a monster truck.
This entry-level priced machine stands out with its bold
looks and working lights, so we decided to hit the beach
and see just what it is capable of.
58 TAMIYA MF-01X VW BEETLE RALLY
The classic VW Beetle has been raced on traditional motor
racing circuits and in rallycross, so why not take it rallying?
Using the MF-01X chassis as a basis, Tamiya can now tick
the rally option with their latest RC model to grace the
pages of Racer.
FEATURES
YOUR INSIGHT INTO THE
BEST OF RC CARS, PEOPLE
AND TECHNIQUES.
16 THE WORKER BEE
After enjoying the results of Ooznest's
C-Beam CNC router, we take a look at the
WorkBee that is capable of making parts from
plastic and aluminium to 0.2mm accuracy.
32 HAGBERG GEARS UP FOR MODIFIED
Racing a development Xray chassis with a gear diff, Alex
Hagberg won the modified category as the BRCA 1:12
On-Road Championship headed to Tamworth.
38 KEEP IT CLEAN
Andy Carter guides you through the best methods and
products you need to keep your valued airbrush operating
at its very best.
52 INSIDE SCHUMACHER RACING
The Iconic RC team travel to Northampton and the home of
Schumacher Racing to reflect on the history of the company
that developed the ball differential and of course took a
World title with the CAT XLS at Romsey in 1987.