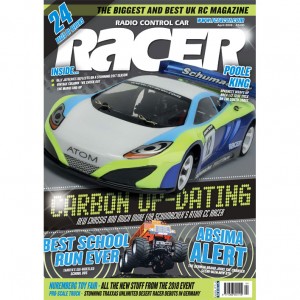 FEATURES
YOUR INSIGHT INTO THE BEST OF RC CARS,
PEOPLE AND TECHNIQUES.
16 YOU GET WHAT YOU PAY FOR
The Iwata Studio Series Smart Jet Pro may not be the
cheapest compressor on the market, but it is a high quality
well-made item that will reward you with many years of
reliability as found out in testing.
24 NEW AT NUREMBERG
Despite low manufacturer representation, the annual Toy
Fair still saw the important industry figures in attendance
as well as some great new products on show from the likes
of Tamiya, Schumacher, Traxxas, and Carson to name a few.
40 ONE DRIVER, BUT A TEAM EFFORT
Olly Jefferies was virtually unbeatable in 2017 in touring
car. Although it was him behind the sticks, he has a huge
team behind him with the likes of manufacturer support
from Xray and Hobbywing, as well as teammates and family.
64 INTRODUCING MARUI
Marui is not as well-known as some of the other
manufacturers from the period so we thought it was time
to give the brand some kudos with their 12 models that
started out with the Super Wheelie Toyota Land Cruiser in
1983 and and ended with the 1988 Shogun.
68 FUN IN THE POOLE
David Spashett wrapped up the BRCA Championship in
13.5T stock title as the series headed to the south coast
and Poole. As well as a great venue, the club put on a
fantastic event and many hope for it to become a regular on
the national calendar.
REVIEWS
THE LATEST
THRASH TESTS.
32 SCHUMACHER ATOM CC
Following on from the Pro, Schumacher has updated the
GT12 model with a new carbon fibre chassis as well as
some other tweaks to offer s platform that is faster with
even sharper handling for the demanding racer.
44 ABSIMA CR2.4
Absima's new CR2.4 is a crawler that targets the newcomer
to the scene and so comes equipped as an RTR with a
painted body, factory installed electrical equipment and a
2.4GHz radio set for control. Joe Brown headed to Herts RC
to see how it fared on their dedicated crawler course.
56 TAMIYA G6-01 KING YELLOW
For those wanting a fun packed ride, then Tamiya's new
King Yellow could be it. Based on the same chassis as the
Konghead, King Yellow is a school bus with a difference
with six-wheel drive and monster truck-sized wheels and
tyres, Is this the ultimate school run vehicle?
REGULARS
NEWS, LETTERS, DATES, NEW PRODUCTS
AND OUR VIEWS.
8 NEWS
Ellis Stafford signs for Carisma, Neil Cragg and Michal
Orlowski take EOS wins as the latter enjoys success at the
British Off-Road Grand Prix in 4WD as Lee Martin takes
2WD. Dustin Evans adds second Reedy Race of Champions
to his resume whilst Cody King joins Serpent and Jack
Embling announces Alpha deal.
12 INSIDE LINES
All the latest stuff including kits, accessories, option parts
and much more.
20 EDITORIAL
The season starts here with three big model shows,
topped off by an annual trip to Germany.
20 WHO, WHAT, WHEN AND WHERE?
Three pictures from the past but who are they?
21 TIME WARP
What was happening one, five and ten years ago.
73 COMING UP
What you can expect to see in the next month's issue of
Racer.
74 CLUB RACER
A packed feature this month with reports from the
Schumacher Winter Series at Louth, EWS from Southend,
multiple events hosted by TTT Raceway and the
Schumacher Indoor Masters from Worksop.
79 DATES
Plan your schedule for the next few months with our
racing calendar.
80 BUYERS GUIDE
Where to shop in your area with Racer's comprehensive
store guide.
82 ALL OVER
The influence of drone flying and First Person View.