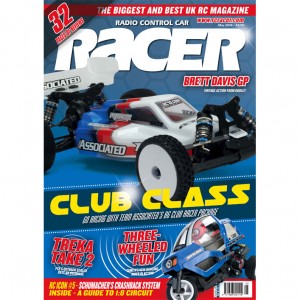 FEATURES
YOUR INSIGHT INTO THE BEST OF RC CARS, PEOPLE
AND TECHNIQUES.
13 RC ICONS
Getting to the end of a run has always been important so back in the
80s, to avoid a mid-race front-end component failure in an impact,
Schumacher devised their crashback set-up that featured on a
number of their off-road buggies and an iconic design of the era.
16 1:8 CIRCUIT GUIDE
Michael Walton has a great amount of experience when it comes
to racing 1:8 on-road with their incredible speed, powerful 3.5cc
engines and wide foam tyres that can achieve speeds of up 80mph.
This month's guide to the class includes details of the growing
electric-powered category, an overview of a normal race day, as
well as racer's opinion courtesy of GP2 winner Matthieu Dambrine.
32 BRETT DAVIS VINTAGE GP
What better way during the winter to get your vintage fix than to
have an indoor event similar to that of the famous Revival. The
Iconic RC and DRCC Brett Davis Vintage GP has become
that event that not only offers great racing, but raises
a huge amount for charity.
64 ONE SPECIAL RACING BUGGY
The Tamiya Sand Scorcher takes centre stage
in this month's Iconic RC column. Originally
placed on sale in the late 70s, the model
was treated to a re-release in 2010 allowing
all those unable to secure an original, the
opportunity to buy a piece of RC history.
68 PAYNE FINALLY WINS ON
SATURDAY
The BRCA 1:12 National Championship headed
to Newbury and saw a number of firsts. Olly
Jefferies retuned to the class in style winning
6.5T modified whilst Ollie Payne would at last get
that 13.5T stock class win.
72 SPARMAX GP-850
Go big with the Sparmax GP-850 spray-gun, the perfect device for those
larger paint jobs that still require a high quality airbrushed finish.
REVIEWS
THE LATEST THRASH TESTS.
24 FTX OUTBACK 2 TREKA
Updated for the new year, FTX's new Outback 2 model features
a wider track, improved suspension articulation and a revised
specification. Available in a range of body options, all come
Ready-To-Run with a 1500mAH NiMH battery in the box meaning
it's a short time away from the local trail as we found out.
36 TEAM ASSOCIATED B6 CLUB RACER
Take one of the most popular 2WD off-road kits, add some Reedy
electronics and wrap it up with attractive pricing for even greater
appeal. Team Associated's new Club Racer comes ready to build
and with a 17.5T motor, speed controller and servo included, all
you need to do is add a radio set, battery, charger, wheels and
tyres and you are ready to race.
46 LOSI TENACITY SCT
Based on the popular Ten chassis, the Tenacity SCT is one tough
platform that is capable of 50mph with ease. To make sure it
is all done safely, it comes with Spektrum's AVC control and a
waterproof Dynamite power package. Shaun Taylor gets his hands
on the RTR, trying out all the features including the FPV mount for
a new type of driving!
56 TAMIYA T3-01 DANCING RIDER
Since the news of the Dancing Rider broke, there was huge
interest in the new T3-01 chassis and its unique design with
its three-wheels and leaning body. John Weston was the lucky
contributor who got to build the self-righting chassis and of course
take it out for a spin.
REGULARS
NEWS, LETTERS, DATES, NEW PRODUCTS
AND OUR VIEWS.
8 NEWS
Team Associated has been busy this month with two new 1:10
off-road buggies and a pair of updated 1:8 truggies, new product
announcements from Sanwa and HB, And Murray does the double
at Eastbourne in GT12 whilst we bring you news of the 32nd Wings
and Wheels Model Spectacular.
12 INSIDE LINES
All the latest stuff including kits, accessories, option parts and
much more.
20 EDITORIAL
Black is still the new black.
20 WHO, WHAT, WHEN AND WHERE?
Three pictures from the past but who are they?
21 TIME WARP
What was happening one, five and ten years ago.
73 COMING UP
What you can expect to see in the next month's issue of Racer.
74 CLUB RACER
Best in Britain from Haywards Heath Oval Track, the Silverstone
Winter Series, Schumacher Winter Series at Worksop, the National
Points Championship for 1:12 Stockcar at Hathern and the
Schumacher Winter Series at Louth.
79 DATES
Plan your schedule for the next few months with our racing calendar.
80 BUYERS GUIDE
Where to shop in your area with Racer's comprehensive store
guide.
82 ALL OVER
Using your head to get an advantage.