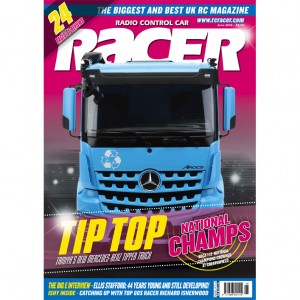 REVIEWS
24 TAMIYA MERCEDES-BENZ AROCS 3348
TIPPER
The Tamiya range of 1:14-scale now has a tipper truck in the
line-up with their new Mercedes-Benz Arocs 3348. Although
adopting a traditional build, the new model boasts some new
design features including a LiPo compatible battery compartment,
integrated antenna tube and re-buildable 35-turn brushed motor.
Joe Brown was once again given the challenging of building the
chassis and painting the hard body.
44 ECX BARRAGE 1.9 4WD KIT
Unlike all other ECX models that we have reviewed to date, the
new Barrage 1.9 4WD model is supplied as a kit. That said you get
all the components required to equip the model in the box so it's
a full kit build and electrical install. What this does mean is that
owners get a great understanding of the mechanics and how the
Barrage works as Jerry Ibbotson found out when he built then ran
the scaler.
60 FTX OUTBACK MINI
Priced at under £70, FTX's new Outback Mini is a smaller version
of their popular 1:10 version. Supplied built and Ready-To-Run, this
small 1:24-scale is very capable and great fun to drive on a range
of surfaces, indoors and out!
FEATURES
16 BACK TO 1:12 WITH A WIN
After focussing solely on 1:10 touring car in 2017, Olly Jefferies
decided to make a return to the 1:12 National Championship in
2018 and the added challenge that it would offer. Despite the
limited time and a new car to build and set-up, Olly was quickly
feeling at home racing on the carpet again.
34 A GUIDE TO TURNING LEFT
Mark Rodgers offers his guide to racing F2 stock cars that
compete on oval tracks. From the outset this may not seem the
most interesting or exciting RC race class, but its popularity says
otherwise…
40 CHAMPIONS CROWNED
At the end of the six-round BRCA 1:12 National Championships, all
three titles had been decided in stock, open modified and sports
modified with Chesterfield being the decider for the latter two
classes. With David Spashett securing the stock championship
early, all eyes were on the modified classes on Sunday to see who
would take the two remaining titles.
56 THE ICONIC ISHY
As one of the fore-runners of 1:10 off-road racing in the UK,
Richard Isherwood is someone who has seen the hobby change
dramatically since the days of the Tamiya Cheetah! After
meeting Ishy at last year's Revival, John Weston just had to
interview him for an Iconic RC column to get some background
into what racing was like in the early days as well as hear a few
great stories.
68 THE BIG E ISSUE
He might have just turned 44, but it seems that a change of
sponsor for 2018 will help keep Ellis Stafford's desire for RC
burning for a while yet as he moves from TLR to Carisma and
supports the development of their 1:10 off-road buggies.