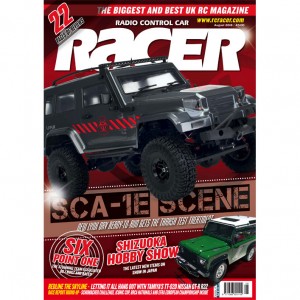 REVIEWS
THE LATEST THRASH TESTS.
24 TEAM ASSOCIATED B6.1
Since its announcement, the B6.1 gained a huge amount of interest
and once released, it has become incredibly popular aided by the
excellent support of a solid UK distributor. Demand for the new
high-grip B6.1 and the B6.1D that targets lower traction surfaces
has been immense so Racer was lucky to get our hands on one of
the final samples from CML Distribution.
36 CARISMA SCA-1E LYNX ORV
The SCA-1E is a new range of scalers from Carisma that currently
comprises of two models with the Coyote truck and Lynx ORV. It is
based around a 4WD transmission with locked diffs, a high torque
motor, four-link suspension and threaded big bore shocks. The
brand has always been well known for their scale models and with
a growing off-road racing stable the knowledge gained has been
used to develop the new platform. Matt Ellis hits the trails with the
latest scaler and reports back.
66 TAMIYA TT-02D NISSAN SKYLINE GT-R R32
Our resident drift expert gets his hands on Tamiya's latest
TT-02D model that's topped off with the Japanese fan favourite,
R32 version of the Nissan Skyline GT-R. As the name implies,
the chassis is a dedicated drift design and is complimented by
dedicated drift spec parts such as 24mm width drift tyres that are
paired with matt-finish metal-plated wheels) and CVA shock units.