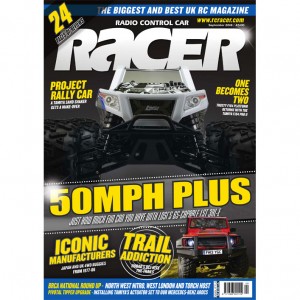 FEATURES
YOUR INSIGHT INTO THE BEST OF RC CARS, PEOPLE
AND TECHNIQUES.
16 ICONIC CUP 2018 R2
Carlisle Radio Model Car Club would play host to the second round
of the Iconic Cup 2018 over the Bank Holiday weekend in May.
32 BOOTS ON A ROLL
Elliott Boots raced to his second national victory in as many races
as the championship headed to North West Nitro on the outskirts
of Blackpool.
38 4WD FOCUS
John Weston continues to reflect on the early 4WD Iconic off-road
class and the period of 1977-86 focussing on the eligible models
from the Japanese giants of Kyosho and Tamiya as well as the
game-changing CAT from Schumacher.
50 STOCK CHAMP TITLES WRAPPED UP
Wins for championship favourites in the two stock classes means
that Colin Jackson and Zak Finlay have wrapped up blinky stock
and boosted stock respectively with rounds to spare!
62 MARTIN THE MAGNIFICENT
Yokomo's Lee Martin was in stunning form at the third round of the
BRCA 1:10 Off-Road National Championship as he came away with
a maximum points haul at TORCH.
68 TIPPER OF THE MONTH
The Tamiya range of 1:14-scale now has a tipper truck in the
line-up with their new Mercedes-Benz Arocs 3348. With the
addition of their Electric Actuator Set this stunning model now has
an operational rear bed.
74 CHANGE OF USE
Project Rally Car sees Jerry Ibbotson convert a Tamiya TT-02T
Sand Shaker into a rally car using an HPI Saturn 20T motor,
Killerbody Lancia Delta HF Integrale body amongst other things.
REVIEWS
THE LATEST THRASH TESTS.
24 TAMIYA F104 PRO II
The latest F1 to come out of the Japanese Tamiya
factory is the F104 Pro II. Despite the new model tag, this
version is more of an update of the older proven F104 chassis
that was released in 2009 and that many raced in years gone by.
F1 fanatic Terry Atkinson takes a look at what the Pro II has to
offer the racer.
42 HOBAO DC1
The DC1 takes HoBao in a new direction and their first model
for the trail crawler scene. Interestingly, the DC1 comes in two
versions