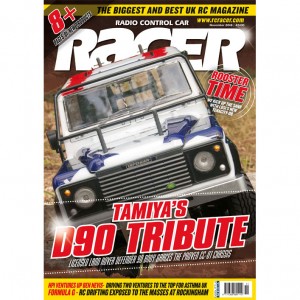 REVIEWS
THE LATEST THRASH TESTS.
24 TAMIYA CC-01 LAND ROVER D90
Our latest review from Tamiya sees a collaboration of their
CC-01 crawler chassis with the iconic Land Rover Defender
90 body that will have both RC and full-size fans lusting
after the package as Japan and Great Britain combine
perfectly.
44 LOSI TENACITY-DB
Once again Losi has tweaked their Ten platform to create a
new model in the form of the Tenacity-Desert Buggy. This
time you get a brushless powered Ready-To-Run chassis
topped off with a moulded roll cage/Lexan body combo to
handle all the abuse you can throw at it.
FEATURES
YOUR INSIGHT INTO THE BEST OF RC CARS,
PEOPLE AND TECHNIQUES.
16 CHAMPION CHANGE UP
After many successful years racing for Xray, Olly Jefferies
announces that he will race for Schumacher. This and much
more news from the man himself in his regular column.
32 TAMIYA AND HOT BODIES DOMINATE
In the second and final part of our two-part feature, Dan
Wooster focusses on the period from 2002 to the modern
day beginning with the time when the likes of Tamiya and
Hot Bodies were the cars to have!
38 HPI HEAD UP A MOUNTAIN
Ben Nevis is the highest mountain in the British Isles so
where better to test the all-round ability of an HPI Venture
and raise money for Asthma UK? Read all about how Alex
Baker and Ross Stewart came up with the idea, and of
course how they got on.
52 ELLIOTT WRAPS UP TITLE
Four rounds were all Elliott Boots needed to successfully
defend his BRCA National Championship in 1:8 off-road,
despite the challenging conditions the weather threw up as
the series travelled to Pembrey in Wales.
56 FORMULA G
Matt Ellis packs up his drift kit and heads to Rockingham
for one of the full-size Formula G drift events as he
showcases the RC version, whilst offering the public a
chance to have a go themselves with some HPI models.