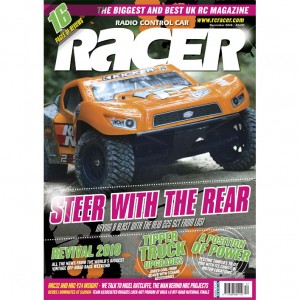 REVIEWS
24 LOSI 22S SCT RTR
There is arguably nothing better than a traditional 2WD
off-roader to drive with its tail-happy tendencies and the
ability to slide into and out of the corner. With this new
Losi SCT, the 22 name returns but this time with a greater
focus on fun.
44 TAMIYA TB-05 PRO
Dan Wooster is no stranger to the pages of Racer. As a
prominent figure on the vintage scene, a contributor to the
Iconic RC column and vastly experienced in both on- and
off-road, who better to review Tamiya's new TB-05 Pro
model.
FEATURES
16 LEE WINS BATTLE, ELLIOTT THE WAR
The title may have been already decided in favour of Elliott
Boots, but he would have some serious competition for
the win as the BRCA 1:8 Off-Road National Championships
headed to Slough for what has become the traditional final
race venue.
32 SHOW, SHINE AND SLIDE
Matt Ellis and the Midlands Drift Society headed to the
Japanese Auto Extravaganza at the East of England
Showground to put on their usual awesome RC drifting
demo and highlight the hobby to a new audience.
36 BURGESS IS THE M-CHASSIS KING
Stafford hosted the fifth and final round of the 2018 Iconic
Cup with battles going for the titles in four of the six
classes.
42 FAMILY MATTERS
If you are looking to stand out from the crowd with your
Tamiya M-Chassis, then look no further than the 1275
Estate from Rcon.
54 WHO ARE YOU KIDDING!
Chris Delves reports from the penultimate round of the
BRCA 1:10 Off-Road Nationals at Kidderminster as Lee
Martin and Neil Cragg continued to battle it out for title
honours.
60 MAKING PLANS WITH NIGEL
Nigel Ratcliffe is the man behind NRC Projects and the
conversions to make the 1:32-scale Team Associated RC10
and 1:24 Yokomo YZ10. Iconic RC's John Weston catches up
with Nigel and finds out how NRC Projects came about.
64 A FESTIVAL OF ALL THINGS RC
Headcorn Aerodrome hosted the annual Southern Model
Show with drones, planes, helicopters, cars and more on
display throughout one weekend .