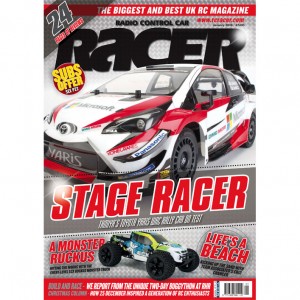 FEATURES
YOUR INSIGHT INTO THE BEST OF RC CARS,
PEOPLE AND TECHNIQUES.
14 DOUBLE TOP
Neil Cragg grabbed his 19th and 20th BRCA National titles
at Boughton but he would have to share the 4WD one with
good friend and championship rival Lee Martin.
32 BOOTH IS BACK ON TOP
The annual Buggython event sees the teams race to build
their Tamiya Sand Viper buggies before racing them around
the RHR track in a series of short fun and endure races as
John Weston reports.
36 JAPANESE BUGGIES ONLY
The Banzai Challenge is a one-off race event for Japanese
manufactured 1:10 off-road buggies and took place on the
Astro track at Bingham Model Raceway.
40 CUSTOM CONCEPT REALISED
Michael Leonard is always looking to do something a little
different so when he wanted a new body for his Tamiya
Tamtech, he chose the Lancia Sibilo and came up with the
necessary 3D printed parts.
52 WHEN CHRISTMAS IS ALL ABOUT RC
Christmas is a time that many of our readers will have
gotten an introduction to RC and many years on, the love
for the hobby is still very strong. In this month's Iconic RC
vintage column we hear some of those nostalgic stories.
66 BLINGED UP TRIKE
The unique T3-01 from Tamiya gets a make-over as we
build a brand new Dancing Rider with a ton of chrome parts
and alloy upgrades courtesy of the Japanese manufacturer.
REVIEWS
THE LATEST THRASH TESTS.
24 TEAM ASSOCIATED CR12
The US brand has released its first ever crawler model in
the form of the 1:12-scale CR12 complete with a licensed
Ford F-150 body that sits on top of a four-link chassis with
Reedy power and waterproof electrics.
44 TAMIYA TT-02 TOYOTA YARIS WRC
The latest World Rally Championship manufacturer to get
their machine recreated in 1:10 RC form is Toyota and
their Gazoo Racing developed Toyota Yaris WRC has been
faithfully modelled by Tamiya using the proven TT-02
on-road chassis as the basis.
56 ECX RUCKUS RTR
Based on a 1:10-scale 4WD platform with brushed
power, the ECX Ruckus is a sub-£200 monster truck