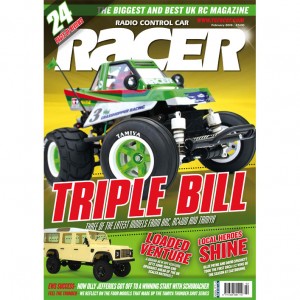 FEATURES
YOUR INSIGHT INTO THE BEST OF RC CARS,
PEOPLE AND TECHNIQUES.
16 OFF TO A WINNING START
Olly Jefferies explains how the first race for his new
Schumacher team began with a win.
40 'BOURNE WINNERS
Local heroes Ollie Payne and David Spashett won the stock
and modified classes respectively at the first BRCA 1:12
National of the season at their local Eastbourne club.
46 VENTURING OUT
Ahead of the UK Scaler Nationals, we took a brand new HPI
Venture and treated it to a range of optional upgrades to
ready it for two days of action.
66 FOUR SHOTS OF THUNDER
The Tamiya Thunder Shot platform played host to four
buggies over a short period and proved to be many an
enthusiasts choice for racing at the time.
REVIEWS
24 TAMIYA WR-02CB
COMICAL GRASSHOPPER
Based on the new WR-02CB
chassis, this version of the
Grasshopper has a short
wheelbase design for wheelies
and lots of fun as Wild Willy once
again wreaks havoc.
32 ARC R11 2019
The latest evolution of the R11 platform
comes with all-new lower bulkheads,
revised steering blocks, new short shock
absorbers and much more so where better than
to test it but at the EWS, and up against some of the best
on-road racers in Europe.
56 RC4WD GELANDE II LAND ROVER D110
The latest scale Gelande II RTR from RC4WD features the
famous long wheelbase Land Rover D110 body and hits the
trail with Matt Ellis behind the wheel.