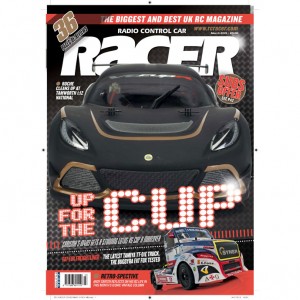 FEATURES
34 ANDY CARTER INTERVIEW
In the latest Iconic RC Vintage Column, John Weston
catches up with Andy Carter who has enjoyed many years
in the RC hobby as both a racer and in the industry as an
employee.
66 ROCHE IN TAMWORTH DOMINATION
With the likes of David Spashett, Ollie Payne and Ben
Vincent racing the Roche chassis, it was no surprise that
all three took wins at the third round of the BRCA 1:12
National Championships hosted by the Tamworth club.
68 ESSEX CARPET CLASH
The Essex Carpet Clash is a new series of indoor events
for 1:10 off-road running during the winter. Mark Young
headed over to Hornchurch to cover the first round on
behalf of Racer.
REVIEWS
12 ECX TORMENT SCT
The 4WD Torment SCT offers a
high spec that includes a Spektrum
DX2E radio, bearings, oil-filled shocks,
battery and charger, wrapped up in an
RTR package that makes it easy to get up and
running, as Matt Ellis found out when he gave
the short course truck a thorough thrashing.
24 CARISMA M40S LOTUS V6 CUP R
The Carisma range of RTRs are famous for their great looks
and attention to detail. Their latest M40S model features
the stunning Lotus V6 Cup R on top of the popular 4WD
chassis complete with working LED lights.
46 TAMIYA TT-01E BUGGYRA FAT FOX
The latest in Tamiya's 1:14 line of racing truck models
based on their TT-01E chassis is the Buggyra Fat Fox
that deviates away from the MAN brand and goes with
a Freightliner body design for a very different look. With
the interest in this RC class growing at club level, we
couldn't wait to see how the truck was received and just as
importantly, how it performed on the track.
58 FTX COMET TRUGGY
Today, what does £70 buy you? A small trolley of shopping
from the supermarket, a tank of fuel, or a 1:12-scale 2WD
in Ready-To-Run form – pretty impressive right? We took
one of the four Comet models, the Truggy out for a test to
see how a sub-£70 RTR fares in the real world.