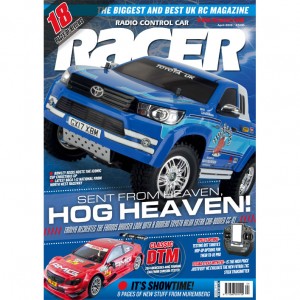 Reviews
24 CARISMA M40S MERCEDES-AMG DTM
Matt Ellis swaps drifting for 1:10-scale touring cars as
builds the highly-detailed Mercedes-AMG C-Coupe based on
the Carisma M40S chassis that was raced in the 2014 DTM
by Vitaly Petrov.
56 TAMIYA CC-01 TOYOTA HILUX EXTRA CAB
The latest CC-01-derived model is based on the new shape
Toyota Hilux Extra Cab that in turn was a replica of Tamiya's
famous Bruiser model. To get the full story, head to page 58.
Features
12 NUREMBERG TOY FAIR 2019
Members of the Racer team once again grabbed their
passports and some Euros and headed to Nuremberg in
Germany to report back on all the new items from the
annual Toy Fair.
32 MODIFIED CHAMPIONS CROWNED
The fourth round of the 2018/19 BRCA 1:12 Championship
was held at North West Raceway that saw wins and
championship titles for Ollie Payne and Ben Vincent.
36 THE ROAD TO BINGHAM
Carl Massey and Kevin Dent are the latest Revival 2019
racers to bring us up to date with their plans for this year's
event that takes place at Bingham Raceway.
46 THE PRO OPTIONS
Dan Wooster takes the TB-05 Pro review car and adds
some of Tamiya's Hop-Up Options that should not only
improve on its performance but its looks as well.
52 SEVEN-CHANNEL STICK
Drawing upon the 7PX steerwheel
transmitter, Futaba's 7XC is a premium
system and a large screen for ease of use
and menu access.
66 RP RC4WD 1985 TOYOTA
4RUNNER HARD BODY SET
The iconic 1985 Toyota 4Runner has been replicated in
1:10-scale by RC4WD and in the first of two articles, check
out over overview with some inspiration from other owners.
70 FESTIVE FUN
Rowley Regis MCC hosted the Iconic Cup Christmas GP that
drew in some regulars from the outdoor series as well as
some new faces to add to the high level of competition.