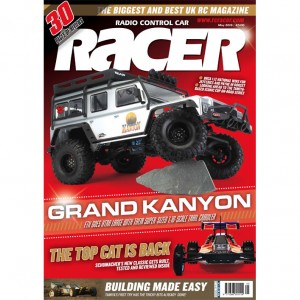 Features
14 POOLE SHARK
Despite many months in the planning, a busy TC
racing schedule for Olly Jefferies prevented him from
testing ahead of his first 1:!2 national held in Poole for
Schumacher, but this didn't stop him from putting on an
impressive display.
16 OLLY'S BACK
Now racing for Schumacher, Olly Jefferies, the reigning
BRCA TC Modified Champion made a surprise return to the
1:12 nationals and only went and took a win as the series
headed to the south coast and the Dorset club.
40 THE SPEED OF THE ECLIPSE
We check in with Olly Jefferies after his success at the
most recent BRCA 1:12 National to get the full story on his
return to the class with Schumacher driving their Eclipse
2 car.
34 UP FOR THE CUP
Ahead of this year's Iconic Cup, John Weston catches
up with to some familiar faces who will be looking
to challenge for class honours in the Tamiya-only
championship.
68 REMEMBERING BRETT
In keeping with its traditional date and kicking off the new
year in style, the Brett Davis Vintage GP 2019 took place
at Dudley Radio Car Club. The vintage-only race meeting
is an opportunity to remember Brett but also raise money
for charity.
Reviews
24 FTX KANYON
As the name suggests, FTX's new trail crawler is bigger
than usual and is based around a multi-link suspension
set-up with adjustable oil filled shock absorbers for the
best off-road handling, topped off with a Lexan body
complete with accessories for a bold scale look. Jerry
Ibbotson heads to Ilkley Moor to put the machine through
its paces.
46 SCHUMACHER TOP CAT CLASSIC
The second of Schumacher's re-releases is the Classic
based on their first dedicated 2WD buggy, the Top Cat.
Driven by demand by potential customers, the 2019 model
not only fills a void for a rear-wheel drive model in their
vintage line, but does it a great price too.
58 TAMIYA TT-02B FIRST TRY KIT
Ready-To-Run models have become very popular taking
away some of the concern of building a kit.