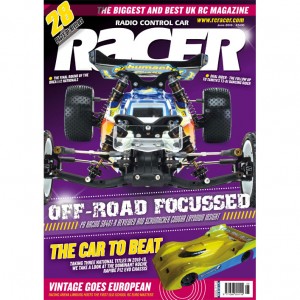 32 PR RACING SB401 TYPE R
The Type R is PR Racing's brand new 4WD buggy that has
had a lot of input from team drivers around the world. The
end result is a very much improved model compared to
the out-going SB401 model as you can find out with our
in-depth review.
46 TAMIYA T3-01 DUAL RIDER
The second trike model to be released by Tamiya to their
T3-01 platform is the Dual Rider. The latest evolution
focuses on updates to its looks with brand new bodywork
that is slim and futuristically styled with a matching brand
new rider figure.
62 ROCHE RAPIDE P12 EVO
The latest evolution of the Rapide 1:12-scale from Roche
is proving to be the chassis to have when you look at the
results from the British Championship. Peter Winton builds
his own kit up, aided by all the knowledge and experience
of former World Champion David Spashett and European
Champion Ollie Payne.
68 FTX COMET BUGGY
The second Comet model for us to review is the Buggy that
comes as a Ready-To-Run, priced at under £70. Richard
Andrews and his young son evaluate the wallet-friendly
Buggy model before putting it through its paces at the local
park.
Features
14 LOWDOWN ON THE LAYDOWN
Announced just as Racer was planning this issue,
Schumacher's new 2WD buggy continues with the Cougar
name but now gains the Laydown moniker for its new
gearbox arrangement that opts for a gear reduction system
inside rather than a belt as previously. Racer got hold of
Ellis Stafford's pre-production car for a thorough insight.
24 OLD SCHOOL RC EURO MASTERS
After standalone events in the UK and Germany, the
Netherlands would host the first European gathering of
vintage off-road race fans from all over the continent who
headed to the Racing Arena Limburg for a weekend of
indoor racing and fun.
56 VINTAGE RULES
Sadly rules are a major part of our life like when we are
at work or school, driving a car on a public road or just in
life in general. And it's no different for racers at the Iconic
events