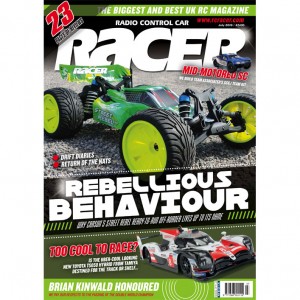 FEATURES
YOUR INSIGHT INTO THE BEST OF RC CARS,
PEOPLE AND TECHNIQUES.
12 THE DIRTINATOR REMEMBERED
We pay tribute to one of the legends of RC, Brian Kinwald
who sadly passed away in April this year.
16 DIRT KINGS
Top American racer Ryan Lutz took a fantastic win at the
inaugural Dirt Kings race hosted by the DXR crew as he
battled with Davide Ongaro in a great sporting encounter.
32 BOOTS'S SWORKZ SURPRISE
Lee Martin and Neil Cragg were always expected to
challenge for the wins at the BRCA 1:10 Off-Road Nationals
as they kicked off at RHR, but it was Sworkz's new signing
Elliott Boots who stole the 4WD victory.
46 BACK FOR MORE AT BMR
Ahead of the Revival 2019, our preparation series of
articles continues as we focus on Dave Proctor and Kevin
Bishop finding out how they got into the hobby, their plans
for the main event and much more.
52 DRIFT DIARIES
In the first of a new series Matt Ellis guides you through
the drift scene – the events, the cars, the set-ups and so
much more. In the first of his Drift Diaries, Matt introduces
you to this specialist RC subject with some background to
the classes.
66 HARPER AND PAYNE TOP TC NATS
The first round of this year's BRCA 1:10 TC National series
were hosted by Eastbourne, but neither of last year's
champions would take the win as Elliott Harper and Ollie
Payne won modified and stock respectively.
68 Q&A WITH OJ
In his latest diary piece, we hit Olly Jefferies with some
questions after making the move to the Schumacher
on-road team in the winter and getting back to 1:12 racing
ahead of the 2020 World Championships that will take
place in the UK.
REVIEWS
THE LATEST THRASH TESTS.
24 CARSON STREET REBEL
Attractively priced for the first-time buyer, the Street is
one model in Carson's Rebel range that suits the younger,
less experienced owner. Equipped with a 17T brushed
set-up and a 1700mAh Li-Ion battery, this Ready-To-Run
offers great value for money with the back-up of a highly respected
UK distributor.