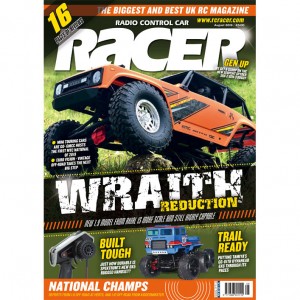 FEATURES
14 A RUGGED TEST
Spektrum's DX5 Rugged combines functionality and
durability with some great new features and a water
resistant design.
32 MTC AT GMCC
Round one of the new for 2019 Mini Touring Car Nationals
kicked off in Essex with the GMCC club regulars taking
centre stage.
34 SHIZUOKA HOBBY SHOW
Alan Harman travelled to Japan in May to cover the 2019
show that takes place in Tamiya's hometown. The annual
event attracts many of the more prominent Japanese
manufacturers including Tamiya, Kyosho and others.
40 SECRET SPYDER
Designed by Billy Easton and developed by Serpent's team
drivers around the world, the new SRX-2 Gen-3 looks very
different to its predecessor due to the fact that there is very
little carry over with lots of new and interesting features.
54 THE VINTAGE SCENE
John Weston reflects on his trip to the Netherlands and the
inaugural Old School Euro Masters event that was driven by
German RC enthusiast, Tommy Peter.
60 I KIDD YOU NOT
Round two of the BRCA 1:10 Off-Road National
Championships headed to Kidderminster and a region that
has an incredibly strong line-up of racers including Tom
Yardy who will be looking to take the battle to the likes of
Lee Martin, Neil Cragg and Elliott Boots.
64 A BUGGY FOR THE BEACH
Jerry Ibbotson converts the famous Tamiya Wild One into a
sand rail with help from Knight Customs and a 3D printer in
the Netherlands.
70 BOOTS BREAKS HIS
COMPETITORS' HERTS
Despite a relatively late chassis change to Sworkz, Elliott
Boots's defence of his the BRCA 1:8 Off-Road National title
got off to the perfect start with a dominant display at round
one hosted by Herts Nitro Model Club.
REVIEWS
24 AXIAL WRAITH 1.9
Responding to their customers actions, Axial's new little
Wraith features smaller 1.9 inch wheels
46 TAMIYA G6-01TR DYNAHEAD 6X6
With a new tweaked Trail Ready version of their G6-01
chassis, Tamiya's Dynahead offers the same 6×6
transmission topped off with a polycarbonate body inspired
by cab-over…