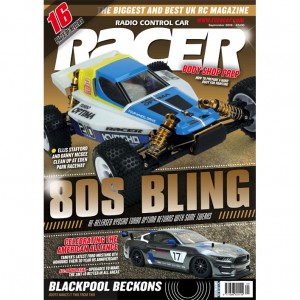 REVIEWS
THE LATEST THRASH TESTS.
22 TAMIYA TT-02 FORD MUSTANG GT4
Tamiya chose the race-inspired Ford Mustang GT4 to
celebrates the 30th anniversary of their presence in the
US as well as paying honour to former president Masayuki
Tamiya. Ian Peckett builds the TT-02 chassis and goes with
the box art scheme to recreate the stunner in 1:10-scale.
34 KYOSHO TURBO OPTIMA
The latest iconic Kyosho race chassis from the 80s to get
the re-release treatment is the Turbo Optima. The 2019
features updates including threaded gold bodied big bore
shock absorbers and 2.2 inch wheels and tyres.
FEATURES
44 UPGRADING THE AXIAL SMT-10
The SMT-10 from Axial is a great platform to upgrade,
which is exactly what we did with our Maximum
Destruction model as we treated it to some suitable option
parts from the likes of Pro-Line, Fastrax, Hobbywing and
Etronix.
52 JEFFERIES BOUNCES BACK
After Elliott Harper took the win at the first BRCA 1:10 TC
National held at Eastbourne, Schumacher's Olly Jefferies
was able to use Halifax to get his championship campaign
back on track with the win in modified as his teammate
Zak Finlay took stock honours in style.
56 DRIFTING AT THE MODIFIED NATS
A trip to the Modified Nationals Performance & Tuning
Show saw some great hot rods, RC drifting and a trip to
A&E as Matt Ellis reports back in the second of his Drift
Diaries.
60 BANKING ON GOOD WEATHER
The second round of the Iconic Cup 2019 headed
to Cumbria and the Carlisle Radio Model Car Club.
Despite wet conditions on Saturday and more
forecast for Sunday, the weather gods were shining
come race day.