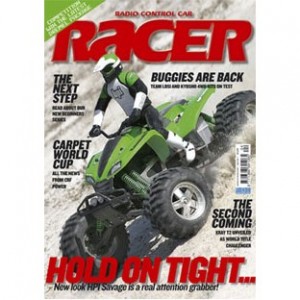 • The Next Step – The first in a new series of articles aiming to broaden your knowledge of RC racing, no matter how fast you think you are.
• Special K – Kyosho return to the 1:10 electric off-road scene with their latest 4WD shaft drive buggy, the Lazer ZX-5.
• An Oldie but a Goodie – Team Losi's XX-4 Worlds Edition is back in action in the hands of the team drivers and thanks to the American manufacturer putting the car back in production, it can be yours too.
• T2: The Second Coming – Following on from their T1 touring car range, Xray's latest car finally receives the T2 moniker. Is this the car that could take the World Title in 2006?
• Silver Arrow – Martin Reeder takes a look at the latest Tamiya TT-01 chassis, complete with pre-finished DTM bodyshell.
• Single Rider Savage – HPI Racing's venerable Savage range takes on a new twist with the new Kawasaki Quad. We like it, you should do too.
• Full Metal Jacket – Prone to putting your truck on its roof a lot? Then the RC Solutions roll cage could be just the thing for you. Racer straps one to our Losi LST and finds out why.
• Darren's Double – Darren Bloomfield continues his winning form by taking both classes at the British Regional Championships in Stotfold.
• Blaze of Glory – Small-scale off-road fun from FTX with their Blaze buggy. Racer puts it to the test.
• Marc's Repeat Performance – Current World Champion Marc Rheinard proved to be a dominant force at the GP Carpet world Cup. Check out all the action in our full report.
• Training Academy – Academy's ever growing range continues with the RT Sport stadium truck.
• Future Shock – Racer takes a closer look at the Nosram brushless system and likes what it finds.
• Second at Sandy – Round seven of the BRCA National Rallycross Championship saw a return visit to Sandy and another win for Jon Hazlewood.