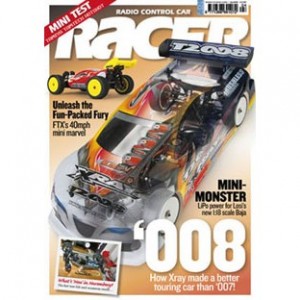 • Mini Test – We take a look at the Tamtech version of the legendary Tamiya Hotshot.
• HPI Nitro RS4 RTR 3 Evo+ –Packed with new features and full of parts from the comprehensive options list, we got to thrash this evolution of the popular stadium truck.
• On Show – Our in-depth report from the Nuremberg Toy Fair.
• Robitronic Mantis – The new ARTR Mantis truggy looks to cover all bases from newcomer to racer so we got Phil McMahon to put the red racer to the test.
• Xray T2 '008 – Every new Xray release raises the bar a little higher and the '008 version of their T2 touring car has this at the top of the priority list. We find our what's new and what you can expect from Juraj's new ride.
• FTX Fury RTR – Perfect page number for this 40mph plus mini off-road electric buggy! Brushless and LiPo at its most impressive.
• Xray Column – This month. Juraj discusses how the new Xray 808 rallycross buggy was conceived.
• A Better Virus – Our guide to hopping-up the Ansmann Virus buggy.
• Losi Mini-Monster Baja – Hot on the heels of the Mini-LST2 comes Losi's latest Mini-LST inspired offering, the Mini-Monster Baja complete with 7.4V LiPo power.
• Racer Diaries – The seventh part of our racing diary sees us "Perfecting the ride."
• Perfect Condition – How LRP's new conditioner aims to look after your sub-C cells.
• Track Directory – Part one of our detailed track guide takes in the counties from Avon through to Northamptonshire.
• BMI DB12R – Peter Winton builds up BMI's innovative 1:12 carpet racer, the DB12R.