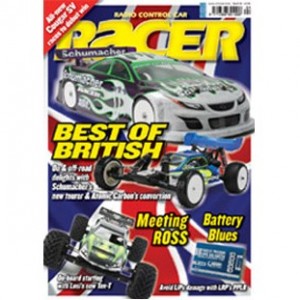 •Atomic Carbon CR2
Take one Losi XXX-CR donor car and add a very neatly made Atomic Carbon CR2 conversion and you end up with a driver friendly, mid-motored National Championship round-winning 2WD buggy. We couldn't wait to get our hands on a sample and find out what Jonathan Clark (Mr Atomic Carbon) had done.
•HPI Cyber 10B
With the HPI Brama 10Boccupying the entry-level slot and the Hot Bodies D4 WCE the top-end, in steps the Cyber 10B, HPI's mid-range 4WD racing buggy that offers an inexpensive way in to the 1:10 off-road scene.
•Oldies but Goodies
A couple of established names rose to the challenge at the final National event for 1:10 off-road. Broxtowe hosted the annual F345s event and it was a couple of mature drivers who took the wins.
•Carisma GT14
Racer takes a look at Carisma's GT14 chassis in Ferrari F430 GT2 form that is designed as an ideal starting point for smaller clubs and venues looking to open up a cost effective on-road class.
•Slough the Second
The Remote World club based at Slough in Berkshire held their second and the final race championship round of the BRCA 1:8 Off-Road National Series. Despite Neil Cragg already having wrapped up the title, the runner-up spot was still up for grabs.
•Schumacher Mi4LP
Chris Grainger and Schumacher captured the BRCA Touring Car National Championship in 2009 in the modified class with the impressive Mi4. But what with new rules and regulations for 2010 and the universal adoption of LiPo technology, the new Mi4LP is Schumacher's response to the changes and the result of the teams development work.
•LRP Column
A new format for the annual LRP Touring Car Masters in Germany is just one of the subjects discussed in Jurgen Lautenbach's monthly column.
•Just a Quickie
Hudy's Quick-Tweak Station gets put to the test.
•Parallel in Precision
If you happen to own a LiPo charger without a balancing option, then look no further than LRP's Parallel Precision LiPo Balancer.
•A Neu Mann Returns to Win
After missing the 2009 Petit RC race held in the UK, former winner Jörn Neumann from Germany returned to the event in 2010 and proved to the quality field once again that he is a class act.
•Dynamite Takes You Away
We have had the Passport chargers on test for a while now and have loved their flexibility and ease of use. Find out why the contributor won't give them back…
•Xray Column
The 2010 racing season has already kicked of in earnest for Juraj Hudy and his Xray team as he takes in the DHI Cup and looks forward to the annual Nuremberg Toy Fair.
•Tamiya M-05 Abarth
Tamiya's baby Fiat gets treated to a whole new chassis and sportier look too. We thrash this Italian road rocket to see what it's made of.
•Moore Wins for Andy
Hot Bodies driver Andy Moore got his BRCA 1:12 National Championship campaign back on track with a double win at Tamworth.
•Xray T3
Out with the old T2 platform and in with the new. But is the T3 really a radical departure away from the proven 008 and 009 models. Long-time touring car stalwart Luke Burley gets up close and personal with the latest orange-themed Xray touring car chassis.
•Losi Ten-T
It may look like a 1:8 off-road truggy but this Ten-T, as the name suggests is a little smaller but with all the features of its big brother, the 8ight-T including a 3.4cc engine and an on-bard starting system called ROSS. Now that you're hooked, jump to page 30 to read all about this stunning RTR.