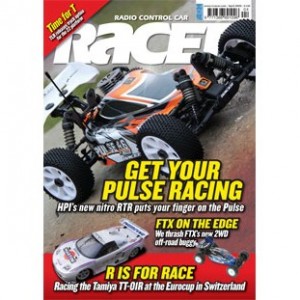 • Middle East RC
In his next step in taking on the world with RC, Dan Rowlands turns his attention to the Middle East and Oman.
• SX3 Update
After our initial review, we bring you up to date with the set-up of our CAT SX3 review car and how the latest Schumacher 4WD fared on the track.
• Olly Signs In
Our new addition to the Racer contribution team is Team Associated's Olly Jefferies. In his first instalment, Olly introduces himself and his plans for the regular column.
• The Exo Has Arrived
Ahead of a full review in a forthcoming issue of the magazine, we take a quick look at the new Exo Terra platform from Axial and give it the once over.
• Mod Domination for Griff
The latest round of the BRCA 1:12 Nationals took place at Tamworth and saw former Champion Andy Griffiths make a return to the winners' circle with his V-Dezign chassis.
• Bloomfield and Martin Battles
At the inaugural Area 51 GP, TLR's Darren Bloomfield and Tamiya's Lee Martin battled it out for 2WD and 4WD honours and ended up sharing a win apiece.
• Nuremberg Toy Fair 2012 – Part One
Six pages of new items from this year's Toy Fair that once again, attracted all the major RC manufacturers and distributors from around the world for a week in the cold at Nuremberg in Germany.
• LRP Column
Motor matters this month as Jurgen Lautenbach runs through the development of LRP's new X20 modified motor
• Lee Martin Diary
Another interesting month for the UK's factory TRF driver.
• Xray Column
With so much new ideas and developments on the XB9 buggy, Xray's chief designer Juraj Hudy concludes the overview in part two of his detailed insight.
• HPI Pulse 4.6 RTR
The Pulse 4.6 RTR from HPI aims to get the newcomer into 1:8 nitro off-road for a fraction of the perceived cost. Bu we ask, has HPI got their finger on the Pulse?
• Tamiya TT-01R Type E
Shaun Taylor builds the latest TT-01R version and takes it on a little European adventure to evaluate it at the Tamiya Eurocup in Switzerland.
• TT Electric RC Ruckus
With help from the newest member of our team, Racer takes a closer look at the latest RTR offering from Horizon Hobby, the Electrix RC 1:10 Ruckus monster truck.
• FTX Edge
Racer goes gaga for FTX's new 1:10 scale 2WD off-road buggy, the Edge in RTR form with battery and charger included as standard.
• TLR 22T
The 22T stadium truck is TLRs second offering of their innovative 2WD buggy platform. Racer lifts the lid on this new championship contender and details all the performance tweaks and changes.
• Thunder Tiger EB-4 S2 Pro RTR
Lee Chapman puts Thunder Tiger's newest 1:8 nitro buggy to the test in the form of the EB4 S2 Pro in RTR form.