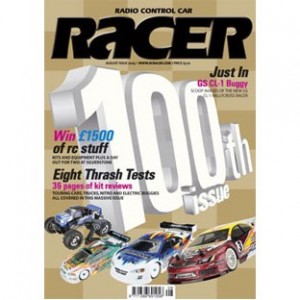 • Storm Chaser – GS have announced the successor to their Storm rallycross buggy. We give you a look the latest car, the CL-1
• 100 Not Out – Racer's celebrates its centenary with the publication of this, the 100th issue. We take a look back at some of the things that have happened during the past years.
• Cragg Continues Doubling Up – Neil Cragg continued where he left off at Tiverton with another double win in the BRCA 1:10 Off-Road series at Kidderminster.
• Swift Goes Pro – The Power Racing Swift is now available as a Pro level racing rallycross kit. Racer takes a closer look at this off-road challenger.
• Andy Gets Moore from Stafford– Hot Bodies driver Andy Moore gives the Cyclone a debut win in the BRCA Touring Car National at Stafford and all the action from the Stock series at Barham.
• Green Snakes Halifax Win – Serpent cars took the top two steps at the latest round of the BRCA 1:10 Nitro Championships at Halifax courtesy of Mark Green and Steve Brown.
• Corally Challenger – Corally's RDX touring car had a dream debut in the BRCA National series at Aldershot, taking TQ and the win in the hands of Glenn Doman. Want to see why this car is a winner? Then read our review.
• David Does Droitwich – Nitro Models' David Crompton returns to his winning ways with his Crono at Droitwich, the latest round of the BRCA Rallycross series.
• Back to Belts – Yokomo are one of the manufacturers that have gone back to belt drive for their latest touring car challenger. Check out our review of the new MR-4TC BD for the Racer verdict.
• Still Savage – HPI Racing's Savage is one of the World's most popular monster trucks. Here's the latest evolution in the form of the 3.5.
• X-Rated – Racer checks out a single belt conversion kit for the XX-4 made by US company X Factory, dubbed the X-5.
• Further Evolution – Tamiya's TB Evolution IV MS is the manufacturers latest car to bear the MS moniker. We take a look at the new shaft drive tourer from Japan.
• Economy Class Touring – Racer gets the low-down on Team Losi's latest budget racing touring car, the XXX-S E-Racer.
• Worlds Winner – The Mugen MBX-5 that won the World Championships is finally available in Prospec form and we tell you all there is to know about the winning machine.