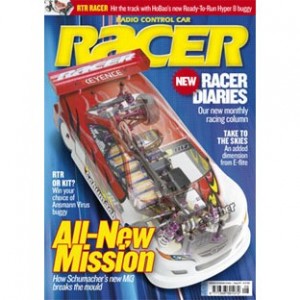 • Truggy Talk
Jurai Hudy's insight – behind the scenes of the XT8.
• Up, Up and Away
When RC drivers take to the skies.
• Batteries Get Bigger
This month's LRP column looks at the development of the sub-C cell.
• Win an Ansmann Virus
Your chance to enter this month's exclusive competition.
• Connector Upgrade
How to replace standard connectors with better quality ones.
• Grainger Makes it Two
All the news from the second round of the stock and mod BRCA TC Nats.
• Kerswell in Control
Corally's Chris Kerswell TQs and wins at West London.
• Series Starts Here
The rallycross National's kicked off at Sandy with a win for Neil Cragg and the prototype Associated RC8.
• Weather Wins on Astro-surf!
Neil Cragg and Lee Martin won at Kidderminster but it was not all plain sailing!
• Shizuoka Show
All the new items on display at the annual hobby show in Japan.
• World Champ Blog
Our new series takes a look at what World Champion Andy Moore has been up to recently.
• Dear Diairy
Don't miss this new feature as we follow our intrepid touring car racer as he learns the ropes, warts 'n' all.
• Tamiya TRF415MSXX
There may only be an additional letter to the name but there is lots of new stuff on the MSXX chassis.
• HoBao Hyper 8 RTR
Take a proven winner in the form of the Hyper 8, install a pull-start engine and some radio equipment and you have one fast RTR rallycross buggy.
• Schumacher Mi3
It's all-new from Schumacher as the Northampton company releases their championship challenger with a brand new design.
• CEN NX Rally
Get it sideways with the latest addtion to the CEN range. With a choice of bodyshell designs and a rapid engine, the NX Rally is a true rooster tail producer!
• Team Losi 8ight T
Is is not hard to guess what the 8ight T is as the truggy was a natural follow on from the successful buggy but there is more to the eye than just big wheels and a truck bodyshell…