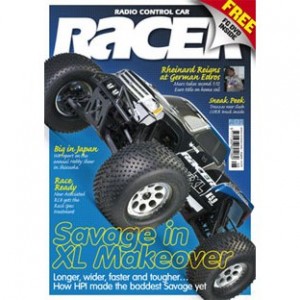 • How To
Mask a bodyshell in our simple step-by-step guide.
• Making the 808
We preview the much anticipated XB808 from Xray.
• X Factory X-6
This month we take you through the build process and reveal all in our back-to-back test session.
• Some things Never Change
New rules, formats and classes but the same result at the BRCA TC Nationals at Aldershot.
• Alsop and Willetts take Cup Wins
HoBao and Losi share the wins at the second hosting of the Panther Cup.
• GV Leopard RTR
With a wide track and low centre of gravity this Leopard is sure footed as its powerful engine blasts it across the plains.
• Big in Japan
The latest products seen at the Shizuoka Hobby Show.
• Stadium Slash
Under the hood of Traxxas' new COR race replica.
• Associated RC8 RS
Using the National Championship winning RC8 as a basis, Associated can now offer an RTR spec model to get you hooked on racing.
• Battery Choice and Conditioning
LRP's Jurgen Lautenbach talks about cell choice and the best way to look after them.
• Maifield Takes the Challenge
The annual Pro-Line UK Challenge took place at Slough and saw a win for Associated's Ryan Maifield.
• Xray Column
The latest instalment from Xray's Juraj Hudy.
• Tamiya XB Porsche Cayenne
Using the DF-01 chassis as a basis, Tamiya have dressed it up with a detailed Porsche Cayenne body in Transsyberia Rally guise to make one of the classiest looking SUVs.
• HPI Savage XL
The HPI Savage is perhaps the most well known of all monster trucks, but until now has sometimes lagged behind in the ever increasing race for power. With the introduction of the 5.9 cc Savage XL all this has changed forever.
• Kings of Kidderminster
Associated drivers dominate round one of the BRCA 1:10 Off-Road Nationals.
• Home Win
Marc Rheinard takes TQ and the win at the 1:12 European Championships in Germany.