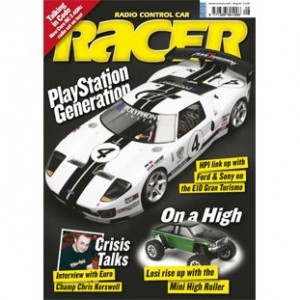 • Xray Column
Juraj Hudy reports in from another busy month and brings our readers up to date with what's happening at Team Xray.
• Olly Doubles Up
The penultimate round of this seasons BRCA 1:12 Nationals took place at Maritime Raceway in Kent. Good results for certain drivers could have meant that the championships were wrapped up with a round to go, but this proved not to be the case…
• Associated RC10B4.1 Brushed RTR
The venerable RC10B4 is probably the most popular 1:10 2WD off-road competition buggy in use today. We take a look at the latest iteration of the RTR version of the kit.
• Xray XII Link
In keeping up with battery developments, many of the 1:12 competition cars now feature link-style chassis to accept a LiPo pack. Xray, a company not to rest on their laurels have tweaked their XII platform with some chassis changes as Luke Burley found out.
• HPI E10 Gran Turismo Ford GT
Inspired by the popular PlayStation console, this HPI E10 Gran Turismo Ford GT brings together all the excitement of gaming and RC cars in one neat package. With everything you need in one box it is a great entry-level package.
• Sub-£80 and 2.4
Core RC's new Code stick radio combo belies its RRP with an impressive spec and 2.4GHz operation. Steve Brooke tries out the radio and offers his opinion on the cost-cutting package that will appeal to a wide range including recreational users and racers alike.
• Darren Loves Deerdale
After a solid performance at round one of the National series, Darren Bloomfield proved his prowess on the Astroturf at round two where he blew the competition away to take his first win of the year.
• Crisis Talks
Racer interviews double British and European Champion Chris Kerswell about his season, as we take a close look at his V-Dezign cars.
• Boys in the Hood
After a success meeting in 2009, Robin Hood Raceway hosted the second round of this year's 1:10 off-road National series at their facility in North Nottinghamshire and Racer was there to capture all the news.
• Losi Mini High Roller
Its another Mini adventure from Losi! This time though, they've aimed their magical shrinking machine at their recreational fun truck and created the Mini High Roller, a mini truck packed with attitude. Racer takes a look to see if any of the appeal has shrunk in the miniaturising process or not…
• Making Charging a Breeze
The Fusion Breeze Plus is a low-cost charger and very simple to use, making it ideal for the first time buyer or younger user. With built in safety warnings and protection, our tester found out all there is to know about the LX40.
• LRP Column
The 2010 racing season has started in the best possible way for LRP. Only four months into 2010 and they have already had success at every major electric RC race in Europe as Jurgen explains in his monthly article.
• Havin' It Large
Peter Rameswari reports from the first round of the BRCA Large-Scale On-Road Nationals held at Brookland.
• Tamiya Sand Scorcher
The second of Tamiya's high profile re-releases is the Sand Scorcher. The model celebrates the 30th anniversary of the Sand Scorcher, and it includes a raft of improvements like newly designed die-cast front and rear suspension arms, front axle, and wheel hubs, reinforced front uprights, redesigned oil dampers and original blister pack style packaging and the famous detailed hard plastic body.