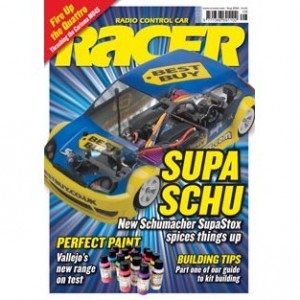 • A Touching Advantage
Team Orion's new Touch charger brings them bang up to date with a distinctive looking unit that stands out from the crowd. We couldn't wait to touch it either so handed it over to our tech team for analysis.
• Boots Superb at Slough
The new-look 2012 BRCA 1:8 Off-Road National Championship held its first of four rounds at the famous Slough venue and it was the AKA shod, Novarossi-powered Kyosho of Elliott Boots who ran away with a dominant victory.
• Updated Vorza
Since we first got our hands on a Vorza Flux back in 2009, things have developed a lot so it was no surprise that HPI decided to give it a makeover and now we have the latest evolution to test complete with 2.4GHz radio.
• Show Guide
A couple of the Racer team headed east to Japan and the annual Shizuoka Hobby Show held in Tamiya's home town. They spent a few days in and around the stands of the show checking out all the new items for our readers to pore over.
• LMR Does RHR
After round one took place in the south, it was time to head north for round two of the BRCA 1:10 Off-Road Nationals and the Robin Hood Raceway close to Worksop. Lee Martin went all selfish after sharing the spoils at Stotfold and dominated the two days at RHR with a maximum points haul in both classes.
• Green with Envy
Wombwell and Halifax hosted the first two rounds of the 1:8 on-road National Championship and despite driver and team changes, a certain Mark Green came away with a couple of wins.
• Olly Heads to the West Coast
Alongside reports from domestic and international competitions, this month Olly Jefferies offers more tips and help when it comes to end point adjustment and tyre treatment.
• LRP Column
This month's column sees Jurgen highlight the busy race schedule of team manager Andy Krämer as well as introduce the new Dynamic 10 motor range as well as the licenced Porsche 911 GT3 Cup body.
• Crazy Time
Many weeks of racing action culminated in great success at the warm-up for the touring car World Championship where Paul Lemieux won with his Xray T3'12.
• HT Build an RC Kit
In our series of How Tos from Justin Noble of quaggies.com fame, this month is the first in a two-part guide on building an RC kit.
• Spraying with Spain
Despite being established well in the plastic modelling sector of the hobby industry, Spanish company Vallejo is new to RC so we decided to put their water-based airbrush paints to the test with Adam Smith behind the controls.
• Schumacher SupaStox
Adding their expertise to the 1:12 mini stock category is Schumacher with their SupaStox platform. Although they have kept the price low, the car aims to raise the performance bar whilst maintaining compatibility with the established products in the sector.
• Losi 22T RTR
Using the TLR 22T design as a basis, the Losi version is an RTR that will help draw people in to the truck class. This 22T comes pre-built with a spec that will appeal to newcomers as well as those looking to go racing with a brushless set-up and LiPo compatibility, wrapped up in a Losi RTR package.
• Carisma M40S Audi Quattro
The Audi Quattro was one of the rally greats of the 1980s. Using their M40S chassis and a 19-turn motor, Carisma have recreated the feel of this rally icon in a 1:10 scale RTR package that is ideal for novices.
• Tamiya Super Clod Buster
Our Tamiya review this month takes a look at one of their latest re-releases to hit the shelves of your local model shops, the mighty Super Clod Buster. Now equipped with a twin motor speed control, the original gets a 2012 make over.
• DHK Optimus RTR
Racer takes a closer look at the latest offering from Ripmax and DHK Hobby in the 1:8 off-road electric-powered sector called the Optimus. This is the cheaper of the two Optimus RTRs and comes in at under £300 and includes a LiPo battery and charger.