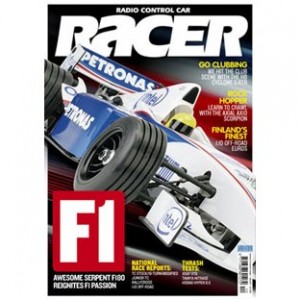 • Axial AX10 Scorpion
We get to test the first-ever production rock crawler to hit the UK. With its high clearance, supple suspension and locked transmission, this is the ultimate crawling kit.
• Hot Bodies Cyclone S RTR
Going club racing has just been made a whole load easier with the RTR version of the Cyclone S and we should know because that is what we did!
• HoBao Hyper 8.5 Pro UK
This is the rallycross buggy that Robert Batlle used to TQ and win the Euros so we couldn't wait to find out what HoBao have changed with the new 8.5 chassis.
• Tamiya Nitrage RTR
With some unique and interesting features, we thrash test Tamiya' first nitro-powered truggy
• Serpent F180 RTR
We think that this is arguably one of the nicest engineered cars on the market. With a twospeed gearbox, four-wheel-braking system, .28-size engine and exquiste bddy, this 1:8 scale F1 replica has to be seen to be believed!
• Xray XT8
Jon Hazlewood wrapped up the BRCA National Truggy
Championship with an XT8 so we decided that we would take it to the track to see what it had to offer.14 Young Guns Despite the foul weather, the Junior TC Champs went ahead and the youngsters shone in the conditions.
• Xray Column
Juraj Hudy returns from the IIC at Las Vegas to bring you this month's Xray column.
• Championships
Remain Open and Closed Chris Grainger wrapped up the
modified TC title at Barham as the stock championship went down to the wire.
• Let the Tuning Commence
This month we manage to make the car easier to drive and therefore lap more consistently.
• Darren Ends on a Massive High
With the 4WD title wrapped up, Darren Bloomfield and Neil Cragg headed to Stotfold to duke it out for 2WD National honours.
• Bloomy Shines in Wet
Rallycross returnee Darren Bloomfield raced through the field to give Losi its first UK National win in the class.
• Euro Stars
This year's Euros took place in Finland and saw the usual suspects do battle on the challenging but fun track at Wasacross.
• Super Stock at Stafford
The battle rages for the podium places at the BRCA Nationals as the 19-turn championship heads for the finish.