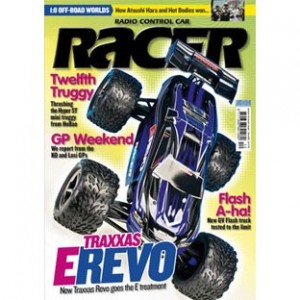 • KO Grand Prix
The annual KO GP attracts many of the top drivers to do battle on the West London race track and this years event was no less thrilling.
• Losi Micro Raminator
Losi's successful 1:36 scale micro platform has spawned another variant in the form of a replica of the Dodge Raminator monster truck. With lots of experience of the micro scene, Andy Carter checked it out.
• Associated TC5R
To put it simply, the R in the name stands for rubber and this is a dedicated chassis for rubber tyre racing. After experiencing the TC5 first hand, we felt that the car had a strong bias towards foam tyres so we are pleased to see that Associated have tweaked their belt drive package as we look at the changes.
• Back to the Future
Eden Park returned to the national scene in style as the south London club hosted the fourth round of the 1:10 off-road series.
• Winners at Ware
The first Losi GP took place on a busy Bank Holiday weekend in August at the Herts Club in Ware and saw a number of top drivers do battle for honours on each day in the buggy and truggy classes.
• GV Flash RTR
Aimed at the newcomer to RC, Great Vigor's Flash is a 2WD stadium truck that should offer bundles of fun at a budget price. With enough adjustments to keep the most fiddle-happy drivers contented, it has a good performance that will keep the speed junkies entertained too.
• On Top of the World
Atsushi Hara took his greatest win to date by winning the 2008 IFMAR 1:8 Off-Road World Championships in Charlotte, North Carolina. Read our in-depth report inside.
• LRP Column
Jurgen talks about the preparations the team made for the 1:10 TC European Championships in Spain as well as details of their our new Stock Spec range of products.
• Xray Column
In his regular monthly piece, Jurai Hudy reports in with news of what's been happening in September.
• Thailand Tourer
Yokomo driver Chris Grainger dropped into the Racer offices to show off his prototype car for this year's World Championships
• Traxxas E-Revo
Using the stunning Revo design as a platform, the E-Revo aims to give you an awesome handling chassis, but with the benefits of electric power. A smart alloy chassis with twin cell slots certainly has the looks but how does it fare? Tom Stacey finds out.
• Getting our Claws In
Racer visited the Schumacher factory in Northampton to get all the details from the design team about their new CAT SX buggy.
• HoBao Hyper ST Mini
Truggies are big at the moment but HoBao's new Hyper ST not! This new 1:12 scale model still packs a nitro punch and is ready to be thrashed on a track or just for fun.