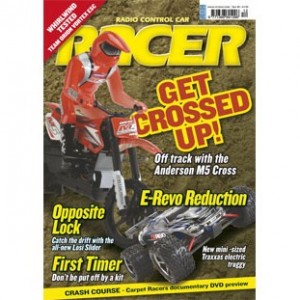 • A First for Darren
Losi's Darren Bloomfield was in fine form at Slough and was there to benefit as others faltered and take his first win of the year at the 1:8 off-road National.
• This Is How We Roll
Putting the Losi Pit Roller to the test.
• New and Old
Snetterton hosted the latest round of the BRCA TC Nats and as Adam Makin celebrated Pro Stock victory, Chris Grainger wrapped up his fifth consecutive Modified TC title.
• My New 'Pal
Our club racing tester eyes up the Etronix Powerpal as a replacement for his existing LiPo charger.
• Dan's the Man
Using the new Atomic Carbon CR2, Danny McGee dominates 2WD at the Stotfold round of the BRCA 1:10 Off-Road series.
• Building Your First Kit
We hand over a Tamiya Fiat 500 to a relative newbie who along with some guidance offers tips and advice on building an RC kit.
• Carpet Racers
We take a sneak preview of a new documentary DVD about the life of a professional on-road racer.
• LRP Column
In this month's column, Jurgen Lautenbach offers advice on use and maintenance of LiPo packs.
• Orion's Whirlwind
Andy Carter tests the Orion Vortex brushless speed controller package in a variety of applications to see how flexible it can be.
• Xray Column
Juraj Hudy's monthly news from behind the scenes at Xray.
• Anderson M5 Cross
Get on two wheels and dirty with the new 1:5 motocross bike from Anderson. Using a clever gyro system in the rear wheel to aid stability, this two-wheeler is very different from other bikes we have reviewed in Racer as our tester found out.
• LRP S18 TC FT
Is this micro the ultimate on-road racer? Packed with exotic materials like carbon fibre and anodised alloy, we equipped the S18 with the latest and best radio components.
• Traxxas 1:16 E-Revo VXL
The latest version of the proven E-Revo has been shrunk down but still packs a serious punch. Now featuring brushless power and included battery pack, this 1:16 E-Revo is big fun in a mini package.
• Associated RC8B
The B version of the Associated RC8 incorporates a number of notable changes from the original that has ensured the chassis has remained the car to beat at the National series. But we wanted to get the views and opinions of someone who doesn't have Neil Cragg's thumbs!
• HPI Sprint 2 Flux
With its "muscle car" looks and Flux power, this Mustang is not just a sheep in wolf's clothing. A 4WD chassis gets the brushless power to the ground and is lightweight design ensures that the Sprint 2 Flux has the speed to match its drop-dead looks.
• Losi Slider
Hang the back out with this scale-looker from Losi. Based on the cars that race on short dirt ovals in the USA, the Slider in RTR form is good fun to drive on loose and sealed surfaces as we found out during our photography shoot during testing at the office.