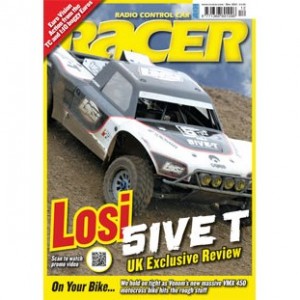 • Ted Longshaw
Racer pays their respects to Ted Longshaw – founder of EFRA and IFMAR, RC industry mogul and above all, a highly respected member of the community.
• Defending Champion Back on Top
Tim Wood returned to the top step of the podium as the 1:8 on-road Nationals travelled to Mendip in Western Super Mare and then onto Halifax where team mate Kyle Branson once again was the man to beat.
• LRP Column
This month Jurgen Lautenbach reflects on the IFMAR 1:10 Off-Road World Championships in Vaasa, Finland and also looks at their new LRP ZZ.21C Ceramic competition engine.
• Xray Column
As we enter the winter season, Juraj Hudy reflects on the European Championships for 1:8 off-road, 1:10 TC and 1:10 nitro.
• Darren Adds to Win Taly
Despite not taking TQ in qualifying, Darren Bloomfield took the A final win from Craig Drescher as the BRCA 1:8 Off-Road National Championship headed into south Wales.
• Lee Martin Diary
It's back to nitro off-road competition for Lee this month with a weekend trip to France and the final National race of the year at the Westmill venue.
• Marc Has it Covered
Once again, the Tamiya of Marc Rheinard would take pole position and the win at the EFRA TC European Championships but this time round, two fellow German Nationals would push him all the way.
• Deserving Champions
The 2011 European Championships were won by Lee Martin and Jörn Neumann in 2WD and 4WD respectively and Racer was there to see it all.
• Losi 5ive-T
Taking the brand in a totally new direction the Losi 5ive-T is a stunning looking large-scale short course truck. With design cues from the 8ight buggy, this 26cc two-stroke monster combines their proven ideas with an all-new look.
• Xray 808 2011 Specs
The recent signing of Renaud Savoya to the Xray factory race team means that the 2011 Specs is the car that the former European Champion will campaign in 1:8 off-road. We analyse what you get and how the manufacturer has improved upon their top of the range buggy.
• Tamiya Vajra
Parts bin special, or unique niche product? Avante fan Tom Stacey takes a look at this latest product from Tamiya that mixes old and new tech in one truck.
• Venom VMX 450
Bikes are the two-wheeled wonder of the RC world and always produce a couple of key questions. How does it stay up and will it wheelie? Racer checks out this quarter-scale motocross chassis from Venom and has an absolute blast!
• Maverick Scout RC
The Scout is Maverick's first foray into the world of crawlers but clearly their designers have done their homework. The Scout offers not just a cheap price, but a very comprehensive RTR package.