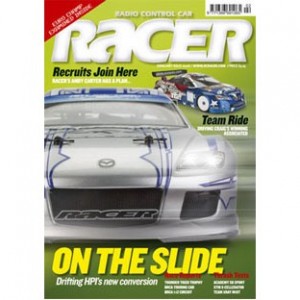 • Craig's Choice – The Associated TC4 Factory Team has proven to be a winner straight out of the box as Craig Drescher proved in the US. But what can it do for you?
• Championship Calls Time – The final round of the BRCA TC Nationals saw the Modified and Stock Champs crowned at Bedworth and West London respectively.
• Sideways Action – The Stage-D kit is a conversion that allows you to convert a Nitro 3 into a Drift machine. Racer naturally used the most powerful Nitro 3 on the market to put the Stage-D machine to the test – sideways!
• Fifteen Years of LRP – Racer takes a quick look at the history of the LRP speedo and how it has developed since the first prototype took to the track.
• The Trophy Heads Home – Jon Hazlewood took a dominant win for Thunder Tiger at the first ever Thunder Tiger Trophy race hosted by 3A Raceway.
• First Timers – Andy Carter wanted to make more youngsters aware of the RC hobby and found that the best way was to go hands-on and get them involved. His reasoning, findings, experience and what he plans to do in the future is for you all to read.
• Spashett Takes Charge at Crewe – Peak powered David Spashett returned to the National 1:12 scene wit two wins at the Crewe and round two of the BRCA Championship.
• Eighteen Heads Off-Road – Xray have developed an off-road truck as their latest addition to their range of electric powered 1:18 scale kits.
• XTM X-Cell – The X-Cellerator is a good-looking nitro powered truck from XTM with a great price. In RTR guise, this 1:10 scale, .18 powered machine is ideal for newcomers as well as experienced drivers as we found out.
• Euro Star – Two British drivers battled it out for Euro honours at the 200mm IC Champs held at Halifax but only one would triumph. Racer checks out the winning Kyosho of David Spashett.
• Shaft Drive Sport – Korean manufacturer Academy have released a 4WD buggy in the form of the SB Sport that is perfect for the beginner and without the top of the range price tag.