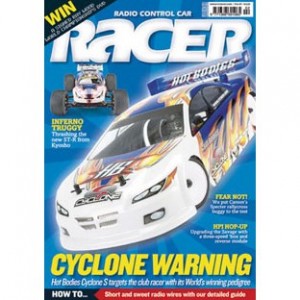 • Carson Specter
The Specter is an RTR spec nitro buggy that with its low price and good looks, is sure to attract some newcomers to the world of 1:8 off-road.
• Team Losi Aftershock
Best described as a low-cost LST, Losi's Aftershock does away with some of the fancy parts but retains an all-important performance package.
• Hot Bodies Cyclone S
Using the World Championship winning Cyclone platform as a basis, have Hot Bodies created the best club racer? You will have to read on to find out.
• Kyosho Inferno ST-R
The Big K gets all serious with its truggy as we put the new Inferno ST-R to the test and get the latest set-up from Kyosho UK's Mike Cradock.
• Tweak Testing
Just one aspect of the new Xray T2'007 discussed by Juraj Hudy in this month's column.
• Twice as Nice
The annual two-day BRCA Rallycross National at Holbeach saw a win for Jon Hazlewood.
• Competition Time
Win one of two World Championship DVDs courtesy of Ray Wood.
• Savage Hop Ups
Three-speed and reverse options installed into our HPI test truck.
• Neil Claims Win at the Last
Despite only participating in four meetings, Neil Cragg took a vital win at the final round of the 1:10 off-road National series.
• Scorcher at Southend
The BRCA Stock and Super Stock Championships enjoy a day by the sea.
• A Quantum Leap
After enjoying Worlds-winning success with the Quantum speed controller, LRP had to convert a prototype into production.
• Fantastic Fabio
Serpent team driver Fabio Domanin took the biggest prize of all when he secured the European Championship at the 1:8 IC Circuit European Championships.
• Thirty Gets Dirty
We installed one of the latest OS Max 30 engines into our HPI test rig to see what kind of performance upgrades you can expect.
• Carter in Seventh Heaven
Dominic Carter put aside his qualifying performance as he raced from seventh on the grid to win the modified class as the Schumacher BTCC took in Stafford.
• Postcard from Jakarta
We bring you a couple of interviews with the first and second placed drivers from the Rallycross World Championships held in Indonesia.
• Championship Upsets?
As the Tamiya Eurocup hit Wrexham, it was time to put the series leaders under some pressure…
• Short and Sweet
Neaten up your wiring with our latest step-by-step guide to cutting down receiver leads.