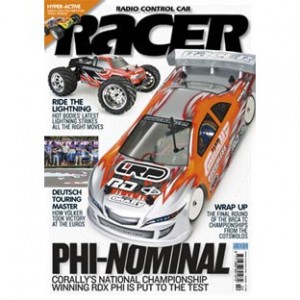 • Snake Charming
Racer's F180 gets some laps under its belt at Crystal Palace.
• Xray Column
The story of the M18T Pro.
• American Invasion
Adam Drake and Mike Truhe came, saw and conquered at the Novarossi Grand Prix.
• Preparation Counts
The latest instalment of our Racer Diaries sees setup changes go in the right direction.
• LRP's World Champion
How the LRP QC3 was developed in record time of the World Championships.
• Season Closer
The final round of the BRCA Electric Touring Car
Championships saw the Stock title finally resolved.
• Juniors and Veterans
The traditional end of season BRCA Juniors and Veterans saw stars of the past and future do battle at Silverstone.
• Jon's Slough Stunner
Jon Hazlewood claims the runners- up prize in the National Championship by winning the final round at Slough for Xray.
• Victorious Voelker
Ronald Voelker wins big in France at the touring car European Championships.
• Sunshine and Rain
The Schumacher BTCC series travelled to Eastbourne and West London with vastly contrasting conditions for the racers.
• Hot Bodies Lightning GT10
Hot Bodies' latest in the line of Lightning series nitro trucks packs a powerful punch for it's small size
• Corally RDX Phi
Racer goes in-depth to find out what made the latest Corally challenger, the RDX Phi, National Champion.
• HoBao Hyper ST Pro
One of the most respectedmanufacturers on the truggy scene releases its latest race weapon. We check out the Pro version of HoBao's Hyper ST.
• Thunder Tiger ER-1
Racer goes rally raiding with Thunder Tiger's new ER-1 Pajero.