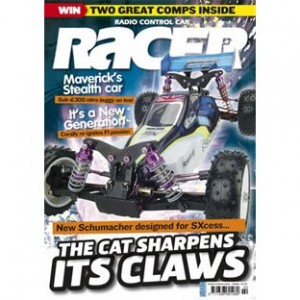 • Schumacher CAT SX
After our chat with the team behind the car, in this month's issue we get to build and race the new 4WD machine.
• Corally F1
It was 15 years ago that we first saw Corally's F1 design but the New Generation F1 model brings the design bang up to date.
• Axial AX10 ARTR
With its orange theme and pre-built design, the new ARTR version of the incredibly successful range of Axial AX10 Scorpion kits really stands out. Naturally we handed the review car over to our tame rock crawling expert to see what's new…
• Maverick Stealth XB
The Maverick brand is a new one to our test team. Priced to suit the first time buyer but with performance aimed much higher, we fire up the Stealth XB 1:8 buggy for a blast!
• XTM XST RTR
Power without a huge price tag, XTM's new nitro powered truggy the XST is striking in its design and Ade Pitman jumped at the chance to put the beast through its paces.
• LRP S18 BX Nitro
Its small, good looking and nitropowered. Supplied as an RTR, the engine can be started in just a few minutes and despite its diminutive looks, this 1:18 buggy offers plenty of fun.
• Robitronic BR50
Adding a new class to the current crop, Robitronic's new trophy truck has the performance to match its racey looks.
• Champions Crowned at Stotfold
The BRCA 4WD National Championship went down to the wire at Stotfold and we were there to report on the outcome.
• Truck Developments
As Ellis Stafford proved the performance of the X Factory X-6 2WD buggy, the latest release is a truck derivative and we got our hands on a pre-production sample of the X-60.
• Making the Great 808 Greater
We look at the range of hop-up parts from Xray designed to make your 808 faster, stronger and more reliable…
• Xray Column
In his regular monthly column, Juraj Hudy reports with all the details of what he has been up to in the last four weeks.
• Starting with a Bang
The new 1:12 on-road season started off at Chesterfield and our new reporter for the year Mark Stiles was there to get all the news on cars and drivers, as well as the all-important gossip.
• Spreading Out
We put the new KO Propo 2.4GHZ Spread Spectrum package to the test and find out what advantages it has to offer.
• LRP Column
For this issue of the column Jurgen Lautenbach of LRP Electronic talks about their latest releases in the nitro sector.