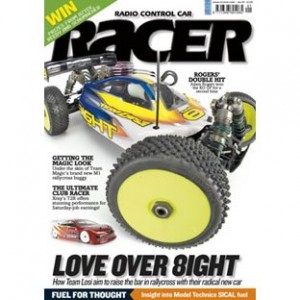 • Juraj Speaks
The latest instalment from the team at Xray.
• Airbrush Competition
Win an Aztek set in our competition this month.
• It's Magic
We show you what the new Team Magic M1 buggy has to offer.
• LRP Insight
How the worlds were won.
• A Cut Above
We take a look at how Model Technics developed their new Sical fuel.
• Win a Rascal
Take just a few minutes to fill in an entry form and you could be winning a Schumacher Rascal RTR package.
• Adam Knocks Them Out!
Local ace Adam Rogers raced his Schumacher Mi2EC round to the win at the annual KO Grand Prix.
• Serpent Share the Spoils
Changeable weather saw a new name head the qualifying sheets but it was Serpent cars that took TQ
and the win at Halifax.
• The Heat is On
Oswestry hosted the latest round of the 1:10 off-road National series as we enjoyed a battle for the 2WD win between two new potential victors.
• Pavidis Comes Good
Despite a poor start to the hour long final, Mark Pavidis was leading when it mattered despite a spirited
challenge from Scott Hughes. Read all about the 1:8 Off-Road World Championships, the near misses, the
heartache and much more.
• Is 8ight Enough?
Read our in-depth thrash test of the awesome Team Losi rallycross buggy.
• Xtra Value
It may be low cost but the performance of Xray's new tourer the T2R reaches new highs.
• Get Ready for the Crush
Tamiya's 1:10 nitro powered stadium truck is 4WD and good fun to drive making it perfect for the newbie.
• Kyosho Return with a Shaft
As the Japanese giants return to the competition TC market, we test the first of their releases in the form of
the TF-5 shaft drive racer.
• Super, Smashing Truck
The SST from Thunder Tiger features a strong .18 engine and a two-speed transmission to ensure the truck has the pace to match its impressive looks.