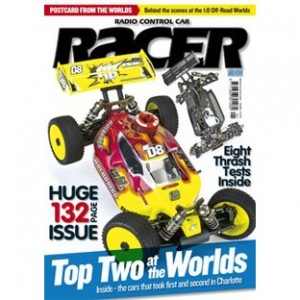 • Join the Revolution
We put the Iwata's entrylevel dual-action airbrush, the Revolution CR through its paces.
• Dremel Competition
Win a Dremel 300 Series Christmas tool kit worth £120.
• A First Look for the Two
Racer gets an early glimpse of the new Losi 2.0 1:8 off road buggy.
• Ansmann Competition
We have an Ansmann Racing Vapor up for grabs in this easy to enter competition.
• Xray Column
Juraj Hudy brings you up to date with what's going on at the Xray factory and race team.
• Postcard from Charlotte
A look back at the biggest race of the year, the 1:8 off-road World Championships.
• One Down, One to Go
Ellis Stafford wrapped up the 2008 BRCA 1:10 Off-Road National Championship with a win at Southport as Neil Cragg took victory for Yokomo in 4WD.
• Simultaneous Racers
This year's Novarossi GP saw separate events running on the Astroturf and dirt tracks as the racers battled the elements in buggy and truggy.
• Small Talk
Jurgen Lautenbach's latest column focuses upon the S18 Touring Car Factory Team, the S18 Race Monster Truck Factory Team and the Rock Crawler RTR.
• On Guard
Racer's resident IT geek takes a look at the latest on board data recorder from Novak which will give you low down on exactly how your vehicle is performing.
• Ansmann Vapor RTR
Our own Colin Spinner puts the entry-level Vapor to the test.
• Hong Nor X2-CRT
So how did Hong Nor improve upon the excellent X-CRT truggy?
• Schumacher Mi3.5 Pro
How the Northamptonshire company raised the bar of their popular touring car.
• Hot Bodies D8
The World Championship winning are of 2008. Need we tell you anymore about this brand new 1:8 off-road buggy.
• Associated RC8T
Using the proven platform from the RC8 buggy, Phil McMahon builds the truggy version and looks at the tweaks that have also been accommodated.
• Losi 8ight-E
All the power and excitement with none of the noise as we take a look at the ARTR electricpowered machine from Losi.
• Traxxas Slash RTR
Awesome looking CORR truck from Traxxas gets the Thrash Test treatment.
• Tamiya CR01 Unimog
We not only check out the latest CR01 model but offer some top tips for competing with your crawler.