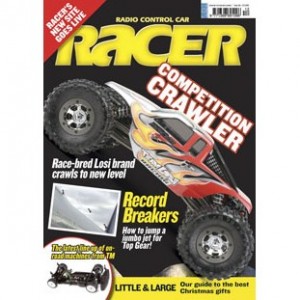 • Top Gear
We find out just how hard it is to jump a plane as a group of racers take on a 747 as part of Richard Hammond's latest DVD.
• Ansmann Competition
One lucky winner will get their choice of an brushless Vapor buggy or brushless Kryptonite truggy in this month's easy to enter Ansmann competition.
• Robin Good Raceway
A return to a old venue with a new name at the 1:10 off-road National circus headed to Blyth for the final round of the series as both championships went down to the wire.
• Christmas Gift Ideas
If you don't want a book token or voucher for Christmas then make sure your family gets to see our selection of gift ideas for the big day and kiss goodbye to rubbish presents.
• Up for the Challenge
The annual Pro-Line International Challenge saw some of the best drivers from Europe compete at Slough but it was Losi's Darren Bloomfield who took the big win.
• Xray Column
With 2010 just around the corner, Juraj Hudy analyses each Xray model in the range ahead of a new year and another racing season.
• LRP Column
Two thousand and nine is nearly over as Jurgen Lautenbach reflects on what has been a super successful season.
• Losi Comp Crawler
The latest addition to the 2.2 competition crawling market is the Comp Crawler with its innovative DIG system, solid axles with a worm gear drive, front and rear locking differentials and four-link suspension. We install an Xcelorin system and 2.4GHz set-up as we decide if Losi's crawler will top the pile.
• Step Up Stinger EST-BL
Hot on the heels of its buggy relative, the EST-BL from Step Up takes performance to a level higher. This stadium truck uses many common parts but the brushed system in this version is replaced with a very powerful brushless package as we found out.
• HPI Savage Flux HP RTR
The Flux is a new take on the Savage formula but this time with blisteringly fast brushless electric power. We strap in some Orion LiPos and see how the 4WD monster truck deals with 22.2V of silence.
• Team Magic
The Team Magic brand is renown for its interesting ideas when it comes to chassis designs so Racer decided to get in touch with new UK agent Comet RC, and check out the three latest on-road chassis in both nitro and electric forms.
• LRP S8 BX Team
Hupo Hoenigl has certainly put the LRP S8 BX chassis on the map with impressive results in domestic races as well as making the A final at the prestigious and highly competitive European Championships. We take a look at the Team version of the buggy, chat to team driver Chris Doughty and analyse the new range of LRP tyres too.
• Tamiya M-05 Mini
After ten years since the release of the first M-series RC car, Tamiya has released the latest M-05 chassis with the popular Mini Cooper Racing version body. Encompassing a whole raft of changes and improvements, our resident M-chassis expert Joe Brown takes a look…
• Schumacher Manic RTR
Manic is arguably the best adjective to use for Schumacher's new 1:8 off-roader. The name means "showing wild and apparently deranged excitement and energy" and that's exactly what we got when we tested it. The chassis features a pair of .18cu engines compete with 4WD and rugged suspension, we put the RTR to the test to see if two are better than one!