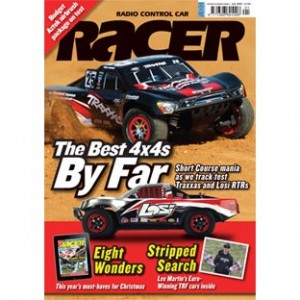 • A Sure Thing
Rob Cuss tests the new engine pre-heater from RC Sure-Start.
• Christmas Crackers
Some non-RC gifts for this year's celebration
• Xray Column
With the announcement of the 2011 version of the T3 model, Juraj Hudy gives us an insight into the changes and the decisions behind them.
• LRP Column
This month LRP's Jurgen Lautenbach reflects on their success at the touring car European Championships as well as the fun at long awaited Summer Party.
• Better Late Than Never
Despite missing the practice day, Losi's Darren Bloomfield took the win at the Pro-Line Challenge at Slough as pole sitter Elliott Boots suffered mechanical problems.
• Joy on the Boating Lake
In a break from the norm, Racer heads down to Maldon model boating lake to get some nautical fun with the Joysway Magic Vee micro RTR boat.
• Ansmann GP
West London was the venue of choice on the August Bank Holiday for the on-road fraternity as the Ansmann GP took place over the three days.
• Lee Martin's Euro Express
Two thousand and ten two saw Lee Martin dominate the EFRA 1:10 Off-Road European Championships with his Tamiya cars so we grabbed them for a close up look.
• Airbrushing with Aztek
Tim Ellis takes a look at the Aztek 4308 as we get his thoughts on the entry-level package.
• Traxxas Slash 4×4
To the uninitiated, this may look like a new body on Traxxas' groundbreaking short course truck chassis, but the new 4×4 Slash is a whole lot more.
• Tamiya TRF201
Tamiya team driver Lee Martin drove the new TRF201 buggy to European Championship success in Austria so when we were offered a sample of the buggy to review, we had to have a good look.
• Losi Micro Rally Car/SCT
Two new 1:24 scalers from Losi this month as we look at the Micro Rally Car and Short Course Truck.
• HPI Bullet ST Flux
The Bullet ST from HPI is available in two guises and we get to put the electric Flux model to the test with some flippin' good results!
• FTX Colossus
As its name implies, the FTX Colossus is a no-nonsense 'in your face' monster of a monster truck. With its super-sized design, brushless motor with dual 7.4V LiPos for power, we hit the track to see if its performance would match its name.