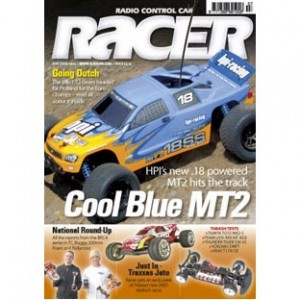 • Jackson Wins Season Opener – Mugen racer Karl Jackson continued his winning streak from Holland as he won the first BRCA Rallycross National at Sandy.
• Take Two – We look at the S version of the TG10 Mk2 nitro tourer from Tamiya.
• Ahoniemi Take Euro 1-2 – The Corally team retained the 1:12 Euro title and they managed to keep it in the family as Sakke Ahoniemi took the title from last year's winner and brother, Simo.
• MT2 Lifts the Bar – HPI's MT2 truck was very good but now the 18SS is even better with more power and a better spec too.
• The Rocket Arrives – The Jato is Traxxas' own little rocket and Racer gets an early look at the new 2WD stadium racer.
• Mark Makes Mendip His Own – Serpent racer Mark Green led a podium sweep for the team as Mendip hoisted the second round of the BRCA 1:10 IC Foam Championship.
• A Weekend of Wins – It was back on the dirt for the 1:10 National Off-Road series as a packed entry headed to Tiverton, only for the title favourite to come away with a double victory.
• Glenn Doman-ates in Aldershot – Racing a Trinity powered Corally RDX, Glenn Doman took TQ and the win at the first TC Modified National race meeting.
• Hopped Up SSK – Thunder Tiger have kitted the new V.2 version of the SSK out with a new motor and a range of alloy options and we get to thrash it!
• Zytek On Test – Peter Winton puts the latest 1:12 scale Parma Zytek bodyshell to the test on carpet.
• Adam's Ride – The new Adam Drake truck from Losi incorporates all of the latest development parts from the team so you can be sure of a winner, straight out of the box.
• Catch My Drift? – Drifting is not only for full-size cars as Yokomo are the first to release an RC version. But we didn't wait this long just for a normal review as we have made a true Concours winner from our kit with just a little help from RC Neon.
• The Kit of 2005? – Xray will certainly be hoping so with their new FK '05 model that has already won in the hands of Jilles Groskamp. We put our new T1 to the test to see how it goes.