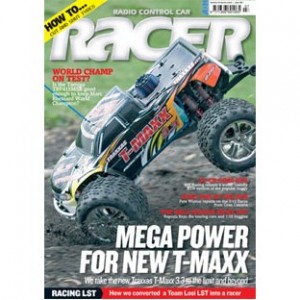 • How To…– 'Cut and shut' off-road tyres.
• TC Champ Conquers 1:12 Euros– Marc Rheinard put in a stunning 1:12 scale display to win his first European title in the class.
• Championship Concludes for Crompton and Hazlewood – The final race of the season in rallycross took place at Slough with the title going right down to the wire.
• A Racer is Born – Ade Pitman converts his Losi LST into a racer with some help from his credit card.
• New Season, New Rules – There is a lot to take in at the TC Nationals with the three classes getting mixed up and only pre-glued tyres being allowed. So how did it all go at round one?
• Flying High – Ever fancied putting your driving skills to the test in the air? Then the Hoverfly Pro could be the RC model for you.
• The Buggy Battle Begins – Two old sparring partners share the spoils at Kidderminster with round one of the BRCA National 1:10 Off-Road Championship.
• Tamiya's Title Defender – At the forthcoming World Championships in Italy, Tamiya will be hoping that with the TRF415MSX, they have the car to retain the title.
• Nice Ice Baby – Get your mouth watering with the Magnum NX entry-level nitro buggy from CEN.
• Double Take – Yes there are two engines in the new Hot Bodies GTX-2 and that means twice as much power and fun.
• Traxxas' Additional 3.3 – Keeping your nitro-powered monster truck as one of the market leaders is a tough challenge. Will the new upgraded Traxxas T-Maxx 3.3 be good enough? Find out on page 108.
• On the Pull – A lack of rallycross experience made Andy Carter the perfect contributor to try his hand at the class. But with the HN Racing X1-CR RTR, he was in safe hands.