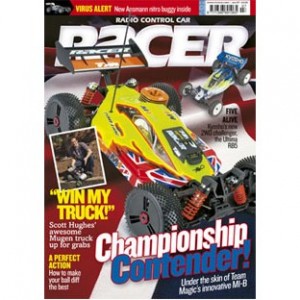 • Scythe Victory Stafford
Jimmy Maddison returned to the TC National Series with a new car and dominated the stock class as Chris Grainger was victorious in the modified category.
• HPI Hellfire SS
The SS version of the Hellfire is the kit model that requires building and installation of your own radio and engine. Naturally we installed top-notch competition spec equipment then headed off to the nearest race meeting for a thorough thrashing.
• Stateside Success
LRP get their first brushless victory.
• Xray NT18MT RTR
This little monster from Xray is ready to run and is supplied to their excellent high standard.
• Kyosho Ultima RB5
The Big K returns to the 2WD competition market with their new Ultima called the RB5.
• A Future World Champ?
We went along to see how the competitors from the recent Hot Bodies Cyclone competition got on and who would win a B Team Drive with Mirage in 2007.
• CEN Genesis GST7.7 RTR
Bigger, better and faster. More updates have ensured the new CEN Genesis has the package to keep it at the top of many a wanted list.
• Up for the Cup
All the news from the first round of the Tamiya 2007 season.
• Busy, Busy, Busy
Juraj Hudy on his recent racing schedule.
• Competition Time
Win Scott Hughes' awesome Pro-Line equipped, Mugen truggy.
• Rebuilding Your Ball Diff
Our guide to the techniques and the best tips.
• Want a Virus
Under the skin of Ansmann's all-new Virus buggy.
• Tiverton Calls Time?
The youngsters come to the fore at the BRCA 1:10 Off-Road National.
• Nineteen's Only
A shake up in the rules and classes for this year sees the 19-Turn Championship run on its own and we were there to see Chris Kerswell dominate for Corally.
• Team Magic M1-B
This is the car that David Crompton has put his hopes on for winning another National title. To find out what the chassis has to offer, then read our full review inside.
• BTCC Begins
Schumacher's series kicked off at Stafford with a quality entry as usual.