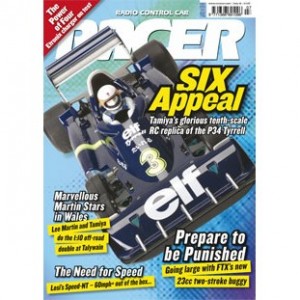 • 2.4 Starter Pack
The latest addition to the Spektrum DX3 range of radio sets is the DX3E model with all the functions that a newcomer could wish for at a wallet-friendly price.
• Frankley Speaking
Neil Cragg proved his championship credentials with an experienced drive to take the win at the first round of the 2010 BRCA Nationals at Frankley.
• HPI Vorza RTR
Our brushless expert takes HPI's new 4WD, 1:8 Ready-To-Run electric buggy for a spin. With speeds of over 70mph available, he is going to need his wits about him.
• Rock On
LRP's new crawler package of brushless motor and speed controller on test.
• LRP Column
The range diversifies in 2010 as two 2.4GHz radio packages are announced.
• FTX Punisher RTR
This model from FTX sees the company go large! Using the proven layout of a 1:8 buggy, FTX have upgraded the chassis and installed a 23cc engine to make a large-scale off-roader, ready to go with 2.4GHz radio package.
• Xray Column
As Juraj takes a break from travelling and competition, he reflects on the success of his team to date.
• Tune Up
Andy North takes a look at running an engine in and his basic tuning method for reliability and durability.
• The Welsh Wizard
Lee Martin dominates round one of the 1:10 off-road Nationals at Talywain.
• The Best Final Ever
Neo10 took place over Easter in Telford and Jason Moller was there to report on the event and make sure nothing was missed at the biggest indoor race of the year.
• Four New Pals
With the ability to charge up to four different type packs, be aware that you could become very popular in the pits if you own a PowerPal 4.
• Tamiya P34 Tyrrell
Ken Tyrrell's P34 Formula One chassis was equipped with four small front wheels rather than two larger ones to offer better aerodynamics and grip. The 1976 model has now been re-released by Tamiya and our resident expert Jon Winter builds up the chassis and finishes it with the kind of detail it deserves.
• The Next Step
After last month's overview of the Mamba Max Pro speed controller, we now get to look at the software and the additional hardware you can use to explore more set-up opportunities.
• Losi Speed-NT
Speed is certainly a good name for this model as it packed with a combination of power and performance. Powered by a 3.4cc, this 1:10 2WD stadium truck is very impressive with handling to match its 60mph plus capability.