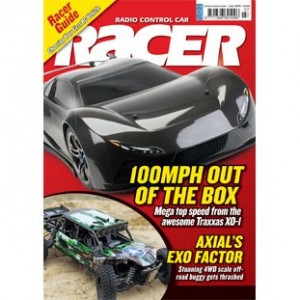 • Olly Jefferies' Prep School
Along with an update to his race results, our resident Team Associated on-road star offers some set-up and build tips.
• Finishing in Style
The final round of the 2011-12 BRCA 1:12 National series concluded at Chesterfield with more wins for the double champ.
• First Time Racers
Racer reflects on the trials and tribulations of an endurance race that took place with some of our non-RC employees.
• Tebo Goes Fourth
Four wins in four attempts at the Neo races is an awesome achievement, Jared Tebo once again dominated the event against a truly world-class driver line-up.
• Choosing an RC model
This month's How To guide sees Quaggies.com's Justin Noble run through the selection criteria for buying your first RC vehicle.
• A German Double
Jurgen Lautenbach was on hand to see his leading on-road driver take two wins in Germany at their National Indoor Championships and then the LRP Touring Car Masters in Eppelheim.
• Who's A Busy Boy Then
Commitments in both 1:10 and 1:8 off-road, domestically and internationally meant that Lee Martin racked up the motorway and air miles once again as he checks in with his regular diary.
• Martin Takes Control
Two wins in two days saw Thatcham's Lee Martin start off his 2012 BRCA 1:10 Off-Road National Championship campaign in style for Tamiya and Speed Passion.
• Traxxas XO-1
Huge performance claims from Traxxas means the XO-1 has been in high demand and much sought after so we had to have one, no matter what the cost. Here is the first of our two-part feature on the stunning 100mph plus machine.
• Axial Exo Terra
The Exo Terra takes Axial off in a new direction. A 1:10 4WD off-road electric buggy may sound pretty normal, but with the caged body and scale realism, this Axial is appealing from so many angles.
• Losi Ten-SCTE RTR
Short course trucks look cool, especially in RTR format when they are equipped with a replica paint scheme and al the hard work done for you. The RTR version of the SCTE RTR has a great spec, and proved to be a hit with the test crew too.
• Tamiya 4×4 Pick-Up Bruiser
Another re-release from Tamiya but one that again reignites memories of the original for our older readers. Joe Brown dissects the 2012 model piece-by-piece and sees how the Japanese manufacturer has refined the design for the 21st century.
• Maverick Vader XB
The Vader is an electric off-road buggy where the XB stands for Xtra Big! The large-scale, 1:5 design is supplied as a ready-to-run and gave us huge smiles as we blasted the buggy around in places where a noisy two-stroke version could never be operated.
• Schumacher Mi4CXL
The L in the name refers to the new longer top deck that is the most notable development on the Schumacher chassis. But there are many more subtle changes to the chassis that the team will use in 2012 as they aim to capture another National title.