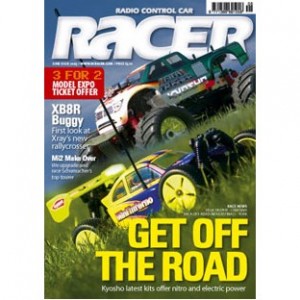 • R Is For Racer – We take a look at Xray's new rallycross buggy, the XB8R.
• Big Block Savage – An advance look at the latest Savage from the HPI stable, complete with 4.6 sized engine.
• Kyosho's Crusher – Racer thrash tests Kyosho's biggest monster truck to date in the form of the Giga Crusher.
• Far Eastern Promise – HN Racing's X1CR Pro is a high spec rallycross car tuned for UK tracks. We give you the lowdown on this new buggy.
• Bloomfield and Bradby Win Indoors – All the action from the BRCA Buggy Indoor Finals in York.
• Baby Firestarter – Kyosho's small scale Mini Inferno gets the once over from the Racer team.
• David's Delight – The Carpet Wars two-day meeting saw David Spashett and Stuart Rand take the wins and improve their bank balances.
• Long Time Runnin' – Racer's long-term test Schumacher Mi2 gets updated to team spec.
• Sport For All – HoBao's latest RTR rallycross car is based on the car that TQ'ed the World Championships. Find out how it goes in our thrash test.
• Golden Oldie – Get all misty eyed with memories of the original of Tamiya's latest re-release, the Hornet.