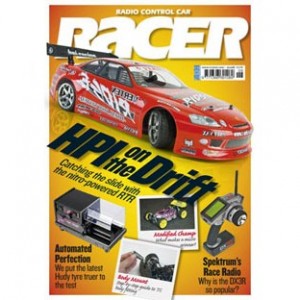 • How To Mount a Body
The first steps to paint preparation.
• LRP Column
The latest brushless information including set-ups and speed secrets.
• Cris' Champ Car
Under the body of the new BRCA Micro Modified Championship winning car.
• Touring in Thailand
Racer's Graham Creasey reports from the hotly contested TITC race.
• R is for the Racer
We find out what's new with the racer-orientated Spektrum DX3R steerwheel radio in our review.
• Carpet Wars World Cup
A strong field made the trip to Chatham for the two-day TC meeting.
• True Testing
We put the new Hudy fully-automated tyre truer to the test.
• Xray Column
Juraj Hudy reports in with news from another month in his busy racing schedule.
• Associated Mini MGT 3.0
The new mini monster comes complete with a .18 engine and a twospeed transmission is sure to grab the attention of newcomers and experienced enthusiasts alike.
• Kyosho Fazer FXX
Phil McMahon puts one of the Fazer entry-level nitro on-road cars to the test, with the awesome, attention grabbing Ferrari FXX bodyshell.
• HPI Nitro RS4 RTR 3 Drift
Get fast and furious with the latest HPI Drift 3. Plenty of power and special compound tyres guarantee awesome drifting.
• Tamiya Nitrage 5.2
This is the second version of the Tamiya Nitrage and follows the RTR model that we reviewed back in our December 2007 issue. You get the same basic set-up but with the ability to build it yourself, install your own preference of radio equipment and give it a custom paint job. Our experienced nitro truck expert gets his hands on the test sample on page 86.
• HPI E-Firestorm 10T
We check out HPI's new electric powered stadium truck that looks to offer plenty of fun, along wuth great handling using the knowledge gained from their superb 1:10 nitro range.
• Tamiya Durga
The latest addition to Tamiya's entry-level off-road line-up is the 4WD Durga. Using the knowledge gained from the TRF501X, the Durga is based around a new moulded DB01 chassis and uses a twin-belt system to transmit the power to all four wheels. With the chassis proving to be a popular car at club level, we get the low down on the build, and our thoughts on racing it.